College funding debated by MSPs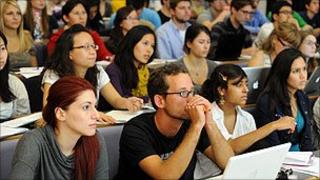 MSPs will debate college funding later, following the first minister's admission last week that he had got his figures wrong.
Alex Salmond apologised to MSPs for telling them budgets were going up when they were actually being cut.
Education Secretary Michael Russell also had to apologise for earlier getting his numbers wrong.
Mr Russell has also been criticised for his handling of a row involving the chairman of Glasgow's Stow college.
Kirk Ramsay resigned after the education secretary said he should consider his position after he recorded the minister in a meeting.
Labour, Lib Dem and Tory members of Holyrood's education committee complained of a "culture of secrecy, bullying and intimidation", which they said characterised the education secretary's relationship with the college sector.
The Liberal Democrats said confidence in Mr Russell had been severely shaken.
Its education spokesman Liam McArthur called on the minister to restore confidence by changing his approach to the sector and revising his budget for next year.
Youth priority
Mr McArthur said: "This fresh debate on Scotland's colleges provides an opportunity for him to try to rebuild confidence within the college sector.
"For this to happen, however, he must make clear his willingness to reverse his funding cuts, re-consider the pace and extent of college mergers and protect the quality of course provision."
A Scottish government spokeswoman said: ‪"Today's debate will be an opportunity to focus on the key role that colleges and their staff play in supporting our young people, communities and the economy.
"Regionalisation, alongside maintaining both the volume of teaching and full-time equivalent student numbers, will ensure that college provision is being prioritised to better address economic needs and support young people at risk of unemployment.
"Colleges are also central to the delivery of Opportunities for All, our specific commitment to offer every 16-19 year old a place in education or training."‬
The Conservatives want ministers to give more clarity over college funding.