Citizens Advice Scotland warns payday lenders to follow code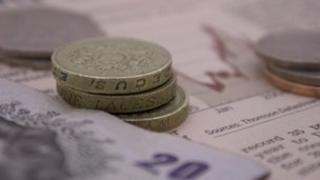 As a new industry code of conduct comes into force for payday lenders, Citizens Advice Scotland (CAS) has launched an awareness campaign.
According to the consumer body there are 50 new cases a day of "crisis debt" through payday loans.
CAS has warned it will be watching these loan firms "like a hawk" to make sure they comply with the new code.
The UK government has welcomed the revised codes of conducts but has warned lenders against complacency.
Four trade bodies - representing 90% of the lenders - have committed to making fees and charges clearer and giving more protection to those in difficulty.
Payday loans are aimed at people who want to borrow a few hundred pounds for a short time, to tide them over until they receive their next wage.
However, the interest charges are high, and consumer groups have raised concerns that consumers have been forced into a spiral of debt.
The new voluntary code
In the new charter, the industry's associations, which speak for more than 100 lenders, have agreed to:
Give clear information on the price of each amount borrowed, including fees and charges
Carry out robust affordability checks to ensure borrowers can repay, before a loan is rolled over
Freeze interest and charges if a customer is in financial difficulty and is using a repayment plan, or after a maximum of 60 days of non-payment
Notify customers in advance if they plan to take recurring payments from a customer's account
Margaret Lynch, chief executive of CAS, welcomed the lending industry "getting its act together" with a new code of conduct but warned that Scottish CAB advisers had seen a 20% rise in the number of cases involving unsecured personal loan debts.
She said: "Any voluntary code is only going to work if people actually stick to it, that is why today we are launching a campaign to help make this charter a success."
"We will be watching like a hawk to make sure all lenders stick to this code, and we will be waiting to help any borrowers exert their rights if necessary."
UK business minister Norman Lamb has said that at a time when consumers are turning more to payday lenders, it is essential the industry properly regulates itself.
Speaking earlier this year when the new code was agreed, he said: "The industry must continue its commitment to root out rogue lenders and tackle bad practice.
"I expect to see real results on the ground coming out of these additions to the lenders' codes of practice and that the trade associations will undertake a proper assessment of how well they are working."
Separate plans, going through Westminster, are set to give the Office of Fair Trading the power to stop instantly rogue money lenders, debt collectors and debt advice firms from operating.
The OFT is also conducting its own review into the payday lending market.