Scottish independence: MPs say Scotland 'better off' in UK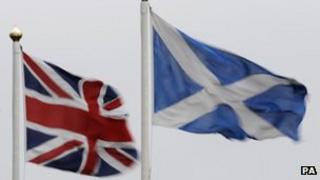 MPs have voted in favour of a House of Commons motion which declared that Scotland was "better off" in the UK.
Members discussed the Scottish independence question, which will be settled in the autumn 2014 referendum, during an Opposition Day debate.
Scottish Shadow Secretary Margaret Curran said uncertainty remained over independence.
But the Scottish National Party's Pete Wishart believed the political union had failed Scotland.
MPs agreed by 334 votes to five the motion declaring Scotland was "better off" inside the UK.
MPs defeated by 321 votes to five an SNP amendment claiming an independent Scotland would enjoy a similar "special relationship" with Britain as Commonwealth countries such as Australia, Canada, India and New Zealand.
Scotland Office Minister David Mundell said the UK government would continue to highlight the benefits of the Union in the run-up to the referendum.
He added: "Scotland has always made and continues to make a significant contribution to the UK over the 205 years of the Union.
"The government believes that Scotland is stronger within the UK, a United Kingdom that Scotland helped to shape.
"But we also recognise that the biggest constitutional question of all needs to be settled once and for all."
Ms Curran said that before Scots could make a decision on the future of their country, they needed to have more detail.
She asked what would happen in Scotland to mortgages; interest rates; pensions and family tax credits.
Ms Curran further questioned: "How do we avoid a race to the bottom on levels of tax, on levels of wages, on financial support?
"These are the real issues that will determine the outcome of the referendum, the real issues that citizens, families, trades unions and businesses are truly concerned about.
"So far the SNP have failed to confront and failed to answer."
Team GB
Conservative MP for Milton Keynes South Iain Stewart said he wanted to make a personal and emotional appeal, saying: "I'm British, my nationality is British and I do not wish to be rendered stateless."
He added: "Of course Scotland and England have distinct cultures expressed through the arts, expressed through the sporting field. Both can be vibrant within the Union, patriotism does not require nationalism to flourish.
"Beyond a patriotic pride, we have in the UK something that is much stronger, Team GB at the Olympic Games exemplified this, the monarchy exemplifies this, even James Bond exemplifies this."
But the Nationalists' Mr Wishart argued that Britishness was an "invention and a social construct".
He said: "I love my country and I want it to be all it can be, I want it to walk tall in the world, I want Scotland to have the national self respect and dignity to make its own place in the world, to make its own decisions, and to make sure that it is us that are responsible for our own failures.
"We are dynamic, inventive, resourceful people, of course we'll make a success of independence."
He added: "The political union has failed Scotland, we no longer want to be tethered to a failing UK state, we can be better, we can walk tall in the world, we can make decisions on our own."
In October, Prime Minister David Cameron and Scottish First Minister Alex Salmond agreed the terms for a referendum on Scottish independence.
The historic 2014 ballot will see Scottish residents voting on a single "yes or no" question on independence.