Festive 'zero tolerance' crackdown on knives extended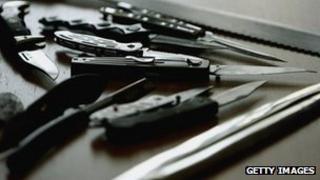 A "zero tolerance" crackdown on knife carrying is being extended over the festive period to cover any location in Scotland.
It follows the success of a pilot scheme in towns and city centres last Christmas and New Year.
It saw an 18% drop in knife crime offences, down to 212 from 257 in 2010.
The latest initiative will see anyone caught with a knife, anywhere in the country, go before a sheriff and jury and face up to four years in jail.
The seasonal campaign by the prosecution service will run from 1 December to 4 January.
In April, new guidelines came into force covering knife carrying in towns and city centres, following the seasonal pilot last year.
Safer communities
During this festive period the tougher action on those caught carrying a knife will apply at any location across Scotland.
The crackdown is being launched by Scotland's top law officer, Lord Advocate Frank Mulholland QC.
He said: "Law enforcement has repeatedly warned of the dangers of carrying a knife. This action provides an opportunity to use it which can lead to the loss of life or liberty.
"If you are thinking of carrying a knife - don't. It is not worth it. I hope this message will result in a safer festive period for all."
The campaign is being supported by the Association of Chief Police Officers Scotland (Acpos) and the Scottish Violence Reduction Unit (VRU).
Assistant Chief Constable Russell Dunn, from Acpos, said: "The targeting of those who carry and use weapons is a priority for the Scottish police service, not just at this time of year.
"However, with this campaign, and the support of all our partners and communities we will continue to identify and remove those offenders who think it is acceptable to carry a knife, and ensure that our communities are safe and welcoming places to be over the festive period."
Det Ch Supt John Carnochan, from the VRU, added: "Violent crime is at a 30 year low; there are 44% fewer weapons on our streets since 2006/7, but sadly there are still those who persist in knife carrying.
"Today's announcement by the Lord Advocate sends out a clear message to those who persist in such behaviour - knife carrying will not be tolerated and will be punished."
Earlier this week, Justice Secretary Kenny MacAskill announced the maximum jail term for carrying a knife in Scotland would increase from four to five years.
Ministers plan to make the changes under proposed criminal justice legislation, to be introduced to parliament next year.