Scottish independence: Teenage adviser for Yes campaign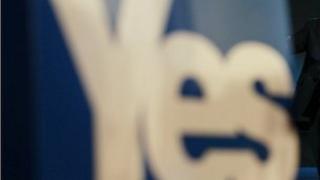 The group leading the campaign to persuade Scots to vote for independence is to recruit a teenager to sit on its advisory board.
With 16 and 17-year-olds to be allowed to take part in the 2014 referendum the pro-independence body Yes Scotland wants a young person on the board.
An advert urging teenagers to apply has been posted on the organisation's website as well as on social media.
The website said it valued the vision of young people for the country.
Other members of the advisory board include Deputy First Minister Nicola Sturgeon, actress Elaine C Smith and chef Andrew Fairlie, musician Pat Kane and former Scottish Socialist Party MSP Colin Fox.
A representative from the Scottish Green Party has also been invited to join the board.
Yes Scotland chief executive Blair Jenkins said: "The advisory board, at its last meeting, agreed unanimously to co-opt a 16 or 17-year-old.
"Unlike many on the anti-independence side who did not want 16 and 17-year-olds to have a vote, we firmly believe that younger people - who can pay tax, get married and serve in the Armed Forces - deserve to have a say in the future of their country.
"We fully support this, not because we think it will particularly favour one side of the debate or the other, but because it is the right, democratic and fair thing to do."
Applicants do not need to have been politically active before, the advert states they "should be able to demonstrate a commitment to bettering the lives of others in Scotland".