Scottish independence: Alex Salmond rebuts Washington Post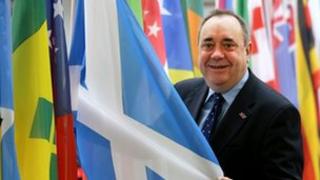 The first minister has rebutted claims made in a US newspaper that Scottish independence would harm the interests of the United States.
A Washington Post editorial said an independent Scotland would be unable to contribute to global security.
But in a letter published in the newspaper, Alex Salmond said the article had contained factual errors.
And he said independence would be in the best interests both the US and Scotland.
The editorial published on 31 October had claimed that: "An independent Scotland would significantly weaken the foremost military and diplomatic ally of the United States, while creating another European mini-state unable to contribute meaningfully to global security".
But writing in Saturday's edition of the influential newspaper, Mr Salmond told readers that the editorial had been "disappointing" and contained "mistakes", principally its out-of-date claim that the SNP was opposed to Nato membership.
Oil reserves
He said: "Independence will certainly mean an end to the stationing of nuclear weapons in Scotland, that is true.
"But this will merely put Scotland in the same non-nuclear category as 25 of the alliance's current 28 members.
"The claim that an independent Scotland would be unable to contribute meaningfully to global security also is untrue.
"Would the same be said of European nations such as Norway, smaller than Scotland, or Denmark, almost identical in size?
"As it happens, these two countries combined flew more air sorties in the internationally sanctioned action in Libya than did the UK."
Mr Salmond also said the Post's assertion that London might veto independent Scottish membership of the European Union and its use of the pound as a currency was "not borne out by the facts."
He cited the Edinburgh Agreement, which committed both governments to work towards their mutual best interests whatever the outcome of the referendum, and Scotland's oil reserves which contribute to the pound's balance of payments.
'Troubled world'
Mr Salmond said the US has been instrumental in promoting democratic self-determination in the past.
He added: "The Republic of Ireland gained its independence in the 20th century and enjoys the warmest of relationships with the United States.
"Does anyone in the United States seriously consider that this relationship would be improved by seeing Dublin return to rule from London?
"In considering the true interests of the United States, perhaps The Post would do well to reflect that democracy and self-determination must by their nature represent the real interest of America, because they are the core principles on which the country was founded."
The first minister pointed out that no one has died arguing for Scottish independence in the last century.
Mr Salmond concluded: "The national movement in Scotland is peaceful, democratic and civic in its nature, something perhaps, in this troubled world, to be encouraged as in the true interests of both the United States and of Scotland."