MSPs call for clarity over capital investment plans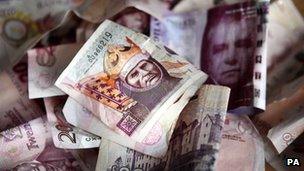 More clarity was needed over what capital investment projects the Scottish government plans to back, Holyrood's finance committee has said.
It made the remarks after scrutinising the government's budget plans.
However, the MSPs supported Finance Secretary John Swinney's move to switch money from resource to capital.
A government spokesman said the budget was "focused on jobs and growth" and ministers were doing all they could within "limited powers".
The work of the finance committee involved investigating a number of areas of the 2013-14 draft budget.
Its work has included looking at;
capital investment
access to capital
housing
broadband
regeneration
skills and employment
non domestic rates income (NDRI)
and public sector procurement.
After studying the financial plans, MSPs called for further information on the additional investment which would be provided in the capital budget, and how it would be spent.
Commenting on the evidence gathered by the committee, convener Ken Gibson said: "We welcome the Scottish government's emphasis on maximising capital investment at a time of severe budgetary constraints.
"Nevertheless, we also believe there is a need for greater clarity, both in terms of additional investment provided and the capital projects supported.
"We also seek greater analysis of the link between the Scottish government's spending priorities and outcomes.
"In particular, we would like a cost-benefit analysis of the contribution which the spending priorities make towards sustainable economic growth."
The committee has asked the Scottish government to give consideration to more money for affordable housing, should extra funding become available, and to identify how to achieve Scotland's potential as a premium brand in food and drink.
It has also asked for consideration to be given to prioritising internet access across the country and for an update on any additional funding arising from the UK government's welfare reform.
Last week the Mr Swinney was given an additional £331m in new capital spending from Chancellor George Osborne.
A government spokesman said it would "confirm shortly" how it planned to allocate new capital funding for the year ahead.
He added: "After two-and-a-half years in office the chancellor has finally heeded Scotland's calls to boost capital spending and allocated £330m of new spending to Scotland over the next two years.
"This investment is long overdue, but the UK government has still yet to outline a coherent plan to return the economy to growth.
"We will confirm shortly how we will allocate this funding for the coming year to secure jobs and investment across the country.
"This government is doing all it can within its current powers but with the full fiscal and economic powers of independence we could do more to create the best possible environment for economic success."
Related Internet Links
The BBC is not responsible for the content of external sites.