Cervical cancer screening age in Scotland to be increased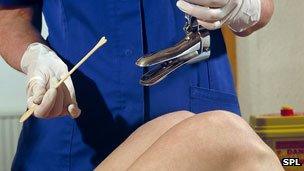 The age at which women in Scotland receive their first cervical screening test will be raised from 20 to 25.
The move follows a review of the screening programme by the UK National Screening Committee (NSC).
It said tests should be extended until 64 and the over-50s should attend every five years instead of every three.
The age changes will start in 2015 when the first cohort of girls given the human papilloma virus (HPV) vaccination reach screening age.
The vaccine, which was introduced in 2008, is given to girls aged 12-13 to help protect them against cervical cancer.
Scotland's Public Health Minister Michael Matheson said: "Cervical screening has proven to be an effective method of reducing the incidence and mortality of cervical cancer, and in detecting cancer as early as possible.
"It saves around 5,000 lives in the UK every year and prevents eight out of 10 cervical cancers from developing.
"We take our advice on screening from the National Screening Committee and their recommendations are based on strong evidence.
"These recommendations also reflect the recommendations of the expert group in Scotland, which recently reviewed the age range and frequency of screening within the Scottish Cervical Screening Programme.
"These changes will bring Scotland in to line with current practice in England and Northern Ireland."
In 2004, the UK government raised the age of women screened in England from 20 to 25.
Over the past year the UK NSC has re-examined evidence for screening women under the age of 25.
It found that cervical cancer in women under the age of 25 was extremely rare.
The committee concluded that screening was not effective in this age group because it did not pick up the very rare cases of cervical cancer that occurred.
Jess Harris, Cancer Research UK's health information manager, said: "This announcement is good news for women. Screening programmes need to make sure that the benefits of taking part outweigh the risks, such as unnecessary tests and worry.
"The introduction of HPV vaccination in 2008 has also changed the picture for younger women, offering them immunity to the virus that causes around seven in 10 cases of cervical cancer."
Related Internet Links
The BBC is not responsible for the content of external sites.