Lib Dem leader Nick Clegg to move into Scotland Office HQ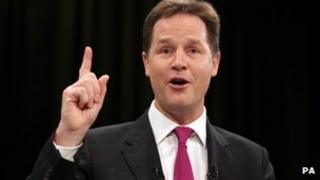 Deputy Prime Minister Nick Clegg will take up residence in the headquarters of the Scotland Office in Whitehall in the New Year, it has emerged.
That will result in Scottish Secretary Michael Moore moving to the junior minister's room in his own department.
It is also understood that a new direct route is being built to allow Mr Clegg to walk internally to Number 10.
The move is thought to be a result of asbestos being found in the building of the Lib Dem leader's current office.
More than £8m in renovations have already taken place.
Officials said the relocation, which will take place in February, was the most cost-effective option.