Scottish independence: Darling and Jenkins clash on EU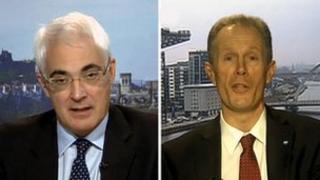 The leaders of the campaigns for and against Scottish independence have accused each other of spreading misinformation over EU membership.
Alastair Darling, from Better Together, accused the nationalists of "deceit" on Scotland's status as a member, if it became independent.
But Yes Scotland's Blair Jenkins dismissed "false" claims that Scotland could be forced to join the Euro.
The Scottish government is staging an independence referendum in 2014.
Mr Darling, the former UK chancellor, and Mr Jenkins clashed as they went head-to-head on the BBC's Daily Politics programme.
The Scottish government has argued that, under independence, Scotland would be able to negotiate its position "from within" the European Union.
In October, Scotland's deputy first minister, Nicola Sturgeon, said it was "unfortunate" there was an impression given that SNP ministers had legal advice on an independent Scotland's EU status, when it had not sought such advice.
EC President Jose Manuel Barroso has told both the BBC and a House of Lords committee that a new member state would have to reapply to join the European Union.
SNP ministers also initially back the retention of the pound, under a monetary union, rather than seeking to join the single currency.
Mr Darling said that, after independence, Scotland would have to negotiate key European issues, including currency and passport and border control.
The Scots MP said: "For years Nicola Sturgeon has said the membership of the European Union would be automatic, she said she had legal opinion to back that up, which now turns out to be complete and utter nonsense - there never was a legal opinion to back that up."
Mr Darling said nobody could predict the outcome of European negotiations.
He argued: "What you've got here is years of uncertainty, which is extremely damaging to businesses and therefore to employment and to jobs in Scotland.
"And all this because the nationalists sought to mislead people in Scotland into believing that nothing would change, it would all be automatic, there was no risk to anything they were proposing.
"We now see the truth of it - they deceived us as to the legal opinion. We're now in the position where we're throwing ourselves at the mercy of 27 other countries and nobody actually knows the outcome of that."
Mr Jenkins said the final decision on the matter was not down to Mr Barroso.
He added: "We're very confident that Scotland will be negotiating its terms and conditions as part of the European Union from a position of continuing to be in the European Union."
Mr Jenkins went on: "It's a political rather than a legal issue. There is no provision in any of the European treaties for the citizens in the territory of Scotland to just stop being part of the European union."
And challenging the opposing campaign, The Yes Scotland chief said: "One of the suggestions they should withdraw is this false assertion that Scotland will be forced to join the Euro.
"This is completely untrue - there is no way in which Scotland can be forced to join the Euro, Alastair knows this."
"It's very clear - there's a pre-condition, which is that you have to be a member of the exchange rate mechanism for at least two years.
"Participation in the exchange rate mechanism is voluntary, so if you do not wish to be part of the Eurozone, you do not require to do that."