Scottish health statistics revealed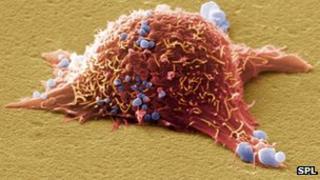 The NHS has failed to meet a key cancer waiting time target, according to new official figures.
Between July and September this year, 94% of patients started treatment within 62 days of being urgently referred with suspected cancer.
But the figure was down from 95.3% the previous quarter, and short of the Scottish government's 95% target.
Scottish Health Secretary Alex Neil said work was on-going to drive down cancer waiting times across Scotland.
The official figures for the third quarter of 2012 also showed 97.6% of patients started receiving help within 31 days of a decision being taken to treat them, exceeding a 95% target.
Mr Neil said half of those patients were actually treated within six days, and praised the government's £30m cancer detection programme.
He said: "We know that a diagnosis of cancer and waiting for test results or treatment can be an anxious time for patients and their families, and that is why we are continuing our work to drive down waiting times for cancer patients across Scotland."
Elsewhere, the figures showed five Scottish health boards - Grampian, Orkney, Fife, Lothian and Forth Valley - failed to meet the target of having 95% of patients urgently referred because of suspected cancer start their treatment within 62 days.
And while 100% of patients referred from the breast screening programme began treatment within two months, this only happened for 88.2% of women referred from the cervical screening programme and 84% of people referred after screening for colorectal cancer.
'Second best'
Scottish Conservative health spokesman Jackson Carlaw, said: "The evidence is stacking up by the week that cancer sufferers in Scotland are being treated as second best."
The Liberal Democrats' Jim Hume, added: "Success is clearly being made in cancer treatment waiting times with the 31 day treatment target being exceeded.
"However the devil is in the detail - these figures show a worrying divide in treatment times, with waiting times standards being failed for six out of ten cancer types."
Jackie Baillie, the Labour health spokeswoman, said: "More and more Scots who suspect they may have cancer are having to wait longer to be diagnosed.
"We need to understand why performance is getting worse - the Scottish government has provided no insight today."