Scottish independence: Future debate 'must be positive'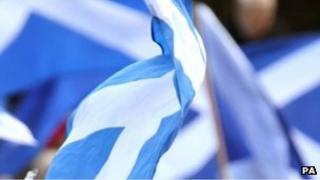 The debate about an independent Scotland must be a positive one, the deputy first minister has said.
Nicola Sturgeon has urged campaigners on both sides to ensure the debate takes place "in a positive way that encourages the people of Scotland to turn out and make an informed choice".
She confirmed a referendum bill would be brought before the Scottish parliament early in 2013.
Legislation on 16 and 17-year-olds taking part will also be introduced.
The deputy first minister made the plea as former chancellor Alistair Darling, who is heading the campaign to keep Scotland in the UK, claimed the nationalists had been "exposed as ill-prepared for this historic debate" and had "not thought through their answers to the really big questions".
Mr Darling, from the Better Together campaign, said those who raised questions about the impact of independence were too often "accused of being negative or scaremongering".
'Biggest decision'
The two rival politicians spoke at the end of a year in which Ms Sturgeon said a lot had been achieved to "ensure that Scotland can hold a referendum made in Scotland that is beyond effective legal challenge".
First Minister Alex Salmond launched the Scottish Government's consultation on the referendum in January.
In October, after months of negotiations between Holyrood and Westminster, Prime Minister David Cameron and Mr Salmond signed a deal on the staging of the vote.
Ms Sturgeon said the Edinburgh Agreement would "ensure that the biggest decision the people of our country will make for many generations is made here in Scotland for the benefit of all of those who live and work here".
Although the referendum is not due to take place until autumn 2014, she said the debate about the country's future "has already begun in earnest".
Mr Darling said 2013 would be "the year where we debate whether the people of the UK are to stick together or whether we are going to break apart".
He added: "We need a debate which is conducted in an atmosphere of respect on all sides."