Scots pine put forward as Scottish national tree at Holyrood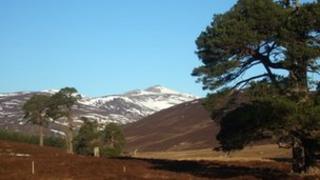 MSPs will press the Scottish government on how to designate a national tree for Scotland.
Members of Holyrood's public petitions committee agreed to contact ministers after hearing a plea for the "iconic" Scots pine to be made the country's national tree.
Campaigner Alex Hamilton submitted a petition calling for the tree to be given the designation.
His petition has the support of a number of environmental organisations.
The Scottish Wildlife Trust, Royal Society for the Protection of Birds, the Woodland Trust Scotland and Trees for Life all back the case.
Mr Hamilton made the case to MSPs in Holyrood that having a national tree for Scotland could be a "valuable symbol" of the commitment to the country's natural environment.
He argued that the Scots pine is an appropriate symbol for the country as its numbers are rising again, after being greatly reduced, making it a "symbol of a resurgent Scotland".
Mr Hamilton told MSPs that 70 countries across the world already had a national tree but that Scotland currently did not.
'Sense of pride'
He said that the Scots pine "comes in all shapes, colours and forms" and it was a "wonderful representation of a multicultural Scotland".
He was supported in Holyrood by Alan Watson Featherstone, the founder and executive director of Trees for Life.
Mr Watson Featherstone said: "Having a national tree, I believe, would really enhance the sense of pride within Scotland and would be something that people everywhere could relate to, something that would unite the Scottish population in this Year of Natural Scotland."
MSPs agreed to consider the issue and will write to the Scottish government, asking about the potential process for declaring a national tree for Scotland.
Nationalist Adam Ingram said: "We need to know how to go about the designation of a national tree for Scotland."
Committee convener David Stewart said: "When we are writing to the Scottish government we could ask if we did go ahead what is the legal process.
"The idea of a natural tree for Scotland is one that has already sparked interest and debate across Scotland.
"Our committee will explore the issues raised within the petition to see whether the idea can take root and become a possibility."