Scottish independence: Moore rejects pre-referendum negotiations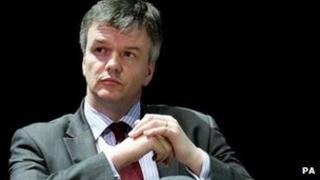 The Scottish Secretary Michael Moore said coalition ministers would not be negotiating in advance of the independence referendum.
He made the remark ahead of the UK parliament voting on legislation to give the Scottish government the legal right to hold the poll.
Mr Moore had been criticised for saying ministers would not make contingency plans for a yes vote.
The SNP's Angus Robertson has urged the two government "to work together".
He believed there was no reason why the Scottish and UK administrations could not have a series of technical discussions similar to what had happened in the run up to the Edinburgh Agreement.
Mr Moore told BBC Radio Scotland that this week was an important one in that he "hoped" Westminster would support moves to pass on powers allowing the Scottish government to organise the 2014 referendum.
He said that once that was done everyone could get on with the "big debate" on the important questions.
However, the Lib Dem minister made it clear that the UK government would not be entering into early talks on what might happen in a post-independence world.
Mr Moore said: "We will not be negotiating in advance, which in fact the Scottish government support us on because, for one thing, we are UK ministers who have responsibility to the whole of the country.
"I think what is important is to recognise that firstly it would be irresponsible, it would be a betrayal of our responsibilities, for UK ministers to act on behalf of only part of the UK against Scotland's interests in some kind pre-negotiation.
"Beyond that I would welcome an element of reality entering the debate here where we get a recognition, from the SNP in particular, that there is a degree of uncertainty about this whole process which cannot be resolved until after the referendum."
Mr Robertson said the anti-independence camp's insistence on not entering into negotiations was a tactic putting people off the no-campaign.
He told BBC's Sunday Politics Scotland programme: "It is constantly 'can't do this, can't do that - Scotland is too poor, too stupid, we can't make progress'.
"We can make progress, it just takes a little bit of good will from the anti-independence parties to do.
"I would appeal for less of the smear, less of the scare stories, less of the can't do attitude, let's have a can do attitude and embrace what is a really exciting and historic opportunity for Scotland in the years to come with this independence referendum."