Mother to make Holyrood plea for morning sickness nurses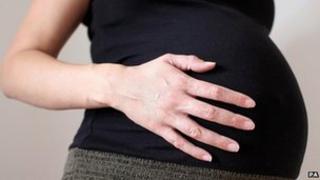 Specialist nurses should be provided to support women who suffer from an extreme form of morning sickness while pregnant, MSPs will be told.
Natalie Robb suffered from hyperemesis gravidarum, the same condition which affected the Duchess of Cambridge.
The Perthshire woman has now submitted a petition to MSPs calling for help.
Ms Robb will tell Holyrood's public petitions committee that even just one specialist medic for the condition would be a "huge" help.
Her experiences have been recounted in an online blog, which she said had been viewed by 11,500 people.
In it, she described hyperemesis gravidarum as being "by far the worst experience of my life".
She still has to take medication for reflux as a result of the condition, which affects an estimated two in 100 pregnant women in the UK.
Ms Robb said hyperemesis gravidarum was "an extremely severe illness resulting in many health problems for the mother including dehydration, renal failure, malnutrition, blood clotting problems, depression and on some occasions can result in death".
In her petition, which is being considered by MSPs later, she added: "Thousands of women, like myself, are desperate for help and support during and after this illness.
"The lack of knowledge within the medical profession regarding this condition can lead women to seek termination instead of suffering from this.
"A specialist doctor, nurse or midwife would be able to provide medical and emotional support by providing the correct information, holding counselling sessions and support groups.
"Even one specialist for the whole of Scotland would be a huge improvement to what is available at present."
The Duchess of Cambridge, who is due to have her baby in July, was admitted to King Edward VII's Hospital in London last month suffering from hyperemesis gravidarum.
She left the private hospital after three days of treatment, saying she was feeling "much better".