Scottish referendum: Better Together want independence advice published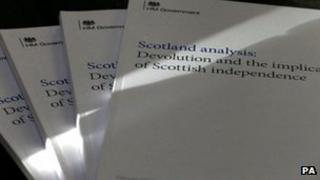 An online campaign has been launched calling for the SNP government to release legal information it has sought on independence.
Pro-Union group Better Together said it was only fair that voters saw what the legal arguments were.
The call comes after the UK government published opinion saying an independent Scotland would be a new state.
But the SNP said that was simply "opinion" and not legal advice from the government's own law officers.
The cases for an against independence are being set out ahead of the Scottish independence referendum in autumn 2014.
There has been an on-going argument about legal advice held by the Scottish government.
Ministers ended a costly court battle with the Information Commissioner to withhold the fact that it had no specific legal advice to support its previous assertions on independence and membership of international bodies such as the European Union.
Better Together campaign director Blair McDougall said: "Their [the SNP government's] response to the last Freedom of Information request was to block, cover up and mislead.
"We hope that, in the interests of having a transparent debate, they won't repeat their behaviour in relation to this request.
"The UK government published their advice and the nationalists have poured over every line of it.
"It is only fair that the voters, experts and the media are able to examine the legal advice that underpins the nationalist argument.
"If they won't show it, then people will assume that they have more to hide."
On Monday, Secretary of State for Scotland, Michael Moore, published legal opinion from Prof James Crawford of Cambridge University and Prof Alan Boyle of Edinburgh University saying that an independent Scotland would be seen as a separate state under international law.
EU ambassadors
A spokeswoman for the SNP hit back saying: "All they [Better Together] have succeeded in highlighting now is the fact that the opinion offered by the two experts published by the Tory-led UK government is just that - an opinion.
"It is not legal advice from the government's own law officers - the UK government have not published that, and indeed may not have any.
"The question for everyone in the No campaign is whether they agree with the finding in yesterday's paper - as Tory minister David Mundell does - that Scotland was 'extinguished' by the 1707 Union."
Meanwhile, First Minister Alex Salmond has addressed a meeting of all European Union Ambassadors to the UK, at a private event at the Irish Embassy in London.
He used his speech on Tuesday to outline his government's "ambitions" for Scotland to continue in EU membership as an independent country.
Mr Salmond told the gathering that historically Scotland had always grasped the importance of internationalism because as a nation "we have been used to sharing sovereignty, in one form or another, for a considerable period of time".