Nicola Sturgeon to lobby MEPs over EU structural funding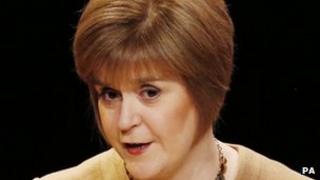 Scotland's Deputy First Minister Nicola Sturgeon is in Brussels where she will ask Scottish MEPs to back her bid for a fair share of European Union funding.
The Scottish government has estimated that it could see a fall in the regional allocations for the EU's structural funds budget of about £261m.
The UK government said final allocations had not yet been set.
But Ms Sturgeon said she remained "deeply concerned" and was keen to win support of MEPs to secure a good deal.
The agreement reached by EU leaders in Brussels earlier this month represented a 3.3% reduction from the previous seven-year budget.
The Scottish government said the deal would cut the UK's allocation of structural funds by about 6%, amounting to 30% in Scotland, according to "initial" calculations.
Scots ministers said a new formula for allocating funding was based on population density, meaning areas like the Highlands would be particularly badly hit.
Structural funding is seen as vital for supporting projects to boost the region's economy, like green energy and other infrastructure schemes, including road improvement.
Ms Sturgeon had spoken to other devolved governments and the UK government, and agreed that officials would work together to devise an alternative allocation method.
The UK government had said precise allocations would only be made after there had been a final agreement with the European Parliament.
Ahead of her Brussels meeting, the SNP minister said: "Although we expected reductions as a result of the overall reduction in EU spending, the allocations across the UK which are now emerging were not envisaged.
"Earlier this month I spoke to the UK government to urge them to reconsider the allocation process set out by the commission.
"This is a major issue for Scotland - and one on which we need a united approach to make our case all the stronger as the process moves on.
"By working together, we can ensure that Scotland receives a fair share of the structural funds budget, so that we can continue to put this substantial funding to effective use in supporting jobs and the economy."
During her Brussels visit, Ms Sturgeon will also make a speech setting out an independent Scotland's place in the EU to an invited audience of representatives from a range of EU organisations.