Plans for overhaul of Scotland's 'antiquated' civil courts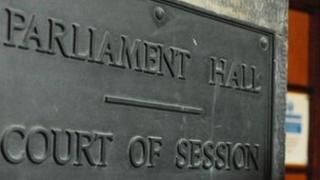 Personal injury claims will be heard by a new specialist court under plans published by the Scottish government.
The plan is part of what has been described as the "largest overhaul of Scotland's courts system in a generation".
It follows recommendations made by Lord Gill - now the Lord President, Scotland's most senior judge.
Justice Secretary Kenny MacAskill said the changes would "reduce unnecessary delays, cost and bureaucracy".
He said: "The impact of current delays and high costs go beyond the courts themselves to the very businesses and individuals seeking both quick and efficient resolution.
"As part of our Making Justice Work programme, we are working to create a modern justice system that is fair, accessible and efficient and that better meets the needs of the people of Scotland today and these reforms are a key part of this."
In his Scottish Civil Courts Review, Lord Gill called for courts to be more responsive to the public's needs - dealing with cases more swiftly and efficiently.
Lord Gill carried out a two-year study of Scotland's civil courts system.
His report recommended a "major transfer of jurisdiction" from the Court of Session to the sheriff court.
The new proposals include;
Increasing the threshold under which only the Sheriff Court can deal with civil cases from £5,000 to £150,000 so that more can be dealt with locally - freeing up the Court of Session to deal with the most complex disputes
The creation of a new judicial post - the summary sheriff - to hear lower value civil cases and less complex criminal cases
The creation of a Sheriff Appeal Court to deal with civil appeals and less serious criminal appeals
And the creation of a national personal injury sheriff court as a centre of expertise.
The recommendations will now be subject to a public consultation which will run until May 24.