Former Scottish Secretary Bruce Millan's funeral is held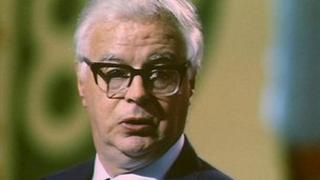 The funeral of the former Scottish Secretary and European Commissioner, Bruce Millan, has been held in Glasgow.
Mr Millan died on Thursday 21 February at the age of 85. He had recently been diagnosed with cancer.
The Labour politician, who is survived by his wife, son and daughter, was born in Dundee and served as an MP in Glasgow for 29 years.
Tributes, at Govan Parish Church, were led by Scottish Labour leader Johann Lamont.
Mr Millan was first elected to represent Glasgow Craigton in 1959 and served in both the Wilson and Callaghan governments.
After the Glasgow Craigton seat was abolished, he went on to represent Glasgow Govan at Westminster.
Ms Lamont said: "Too often politics is lived in the instant, in the moment, with a rush to judgment and a habit of allowing the loudest voices to reinvent the past in order that they might shape the future.
"But, at this saddest of times for Bruce's family, we have an opportunity to reflect on the scale and depth of Bruce's political legacy and to celebrate the life of a good man, with a life well-lived in the service of others. A man who served Scotland through very turbulent times but whom history will remember favourably."
The SNP's Jim Sillars took the Glasgow Govan seat in the by-election that followed Mr Millan's departure in 1988.
He then took up the role of European Commissioner for Regional Policy and Cohesion.
The Labour politician also chaired the Millan Committee, which proposed reforms to mental healthcare in Scotland.