Scottish child exploitation and prostitution inquiry launched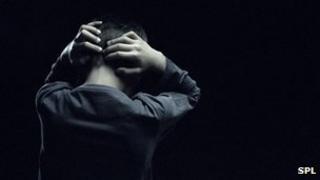 A Scottish parliamentary inquiry into child sex exploitation and prostitution has been launched, amid claims the problem may be far worse than thought.
Holyrood's petitions committee is looking into the issue following the concerns from children's charity Barnardo's.
MSPs will consider whether current measures and guidelines are doing enough to tackle exploitation.
They will take evidence before reporting their findings.
The government said Scotland had one of the world's best child protection systems, and earlier this year announced a plan which aims to deal with the concerns which have been raised.
Child exploitation can cover a range of activity, from exchanges of sex for attention or gifts to serious organised crime, with young people who are vulnerable or from deprived backgrounds at particular risk.
The committee launched its inquiry after being presented with a petition from Barnardo's Scotland stating that many children and young people were being put at risk of being exploited because of a lack of reliable information which was failing to paint a picture of how bad the problem was.
The charity also said current guidelines dated back to 2003 and, despite being updated in 2010, only highlighted child sexual exploitation in complex cases and serious organised crime, leaving "clear gaps" in the system.
It stated in its petition: "We our concerned that the current level of child sexual exploitation in Scotland is far higher than is currently known and that, without robust data and information, many children and young people are being put or are at risk of being exploited."
Barnardo's has now called on the Scottish government to bring forward a completely new set of guidelines which would place a greater burden on local authorities and take account of how the internet is being used to further exploitation.
Petitions committee convener and Labour MSP David Stewart said: "A childhood free from exploitation of any sort should be a right for every child.
"Our committee wants to examine the current measures in place to tackle this shocking and devastating practice.
"We will also look at what needs to be done to address the sexual exploitation of children as well as supporting victims to rebuild their lives."
The inquiry is seeking to establish the most common types of exploitation and how young people become caught up in it.
The cross-party committee also hopes to find examples of good and bad practice among agencies dealing with the problem and recommend any changes it thinks are needed.
Under a programme of action to tackle child sexual exploitation announced in January, the Scottish government pledged to:
Improve identification of potential victims, many of whom do not recognise themselves as victims of abuse.
Improve the way the problem is identified by Scotland's new single police force.
Encourage victims to come forward through a new confidential service.
Set up an expert group to learn lessons and make recommendations to ministers.
The petitions committee said it wanted to hear from those working to tackle child sexual exploitation as well as people who support victims.
Submissions to its inquiry close on 30 April.