Horsemeat scandal: Ministers urged to look at school meals quality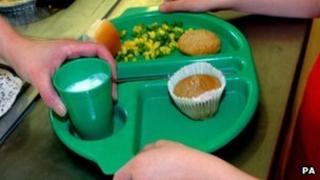 Scottish ministers have been urged to look at the quality of school meals in light of the horsemeat scandal.
Labour MSP Claire Baker told a Holyrood debate on food policy that there needed to be a rebalance from 65% price and 20% quality.
Environment Secretary Richard Lochhead said a working group would look at refreshing policy on school meals.
At the start of the year it emerged horsemeat was being unknowingly used in supermarket ready meals.
A number of products was taken off the shelves throughout the UK and tests carried out on school and hospital meals.
There was no evidence that horsemeat had been used in food supplied to publicly run institutions.
The debate at the Scottish Parliament heard Ms Baker state that the cost of school meals was "three-times more than quality".
She re-quoted figures obtained by the Scottish Green Party showing what councils spend on each school lunch.
Aberdeenshire Council spent £1.68 per meal in 2010-11; Argyll and Bute Council spent £4.01 per meal, the most of all the mainland authorities. The Scotland average for that year was £2.83.
Ms Baker said: "While we can point to local authorities such as East Ayrshire and their focus on local food sourcing, it is evident that local authorities were encouraged towards national procurement contracts as a means to deliver best value."
Mr Lochhead said the government recognised the importance of the issue.
He told the chamber: "Of course we can strive to do more but we should take confidence in our school meals, where uptake has risen for three consecutive years, 45.1% to 48.7%."
Liberal Democrat rural affairs spokesman Tavish Scott called on public food contractor Brakes, which provides food for schools and was recently implicated in the horsemeat scandal, to reveal where it sources its food.
'Buying local'
Mr Scott said: "I've raised in successive weeks over various question times the sourcing of frozen food by 28 local authorities from Brakes.
"Mince for school dinners comes from this company but no minister has been able to tell me from which farm that mince is sourced.
"Public Health Minister Michael Matheson did say that the Scottish Excel (food procurement) contract does include traceability as a criteria of that policy.
"I am therefore at a loss to understand why mums, dads, teachers and pupils don't know where that food comes from."
Green MSP Alison Johnstone called for local produce to be the default choice for public food procurement.
Ms Johnstone said: "The procurement in East Ayrshire Council has led the way in Scottish schools, but others like Edinburgh are trying to catch up.
"Our food policy should be one that ensures that buying local is the default choice for public sector procurement."
Conservative MSP Alex Johnstone, whose family runs a dairy farm, called for food quality to be balanced against affordability.
He said: "My background as a rabid running-dog capitalist dairy farmer in the 1980s and 90s has left me in a position where some of my views on food markets and their regulation might not be entirely popular with members of this chamber or the farming industry itself."
Mr Johnstone continued: "I believe in high quality produce from Scotland but at cost-effective prices, and I believe that this government, if it is careful, is still steering the correct path."