Leveson Inquiry: Scottish press regulation report due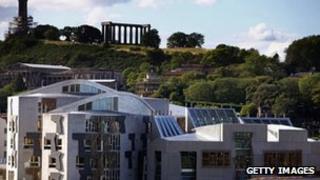 An expert report on the regulation of the press in Scotland is to be published on Friday, it has emerged.
Lord McCluskey chaired a committee at the invitation of the first minister after the Leveson Report on the press.
Alex Salmond has been holding cross-party talks in an effort to find a solution that would work under Scots law.
At Westminster, talks have broken down and the prime minister intends to hold a vote in the Commons on Monday.
Former high court judge and solicitor general Lord McCluskey was appointed to recommend press regulation reforms in Scotland.
The Leveson Report examined the culture, practice and ethics of the press in the wake of the phone-hacking scandal at the now-defunct News of the World tabloid.
Published in November, it found press behaviour was "outrageous" and "wreaked havoc with the lives of innocent people".
Independent regulator
In Scotland, Lord McCluskey has been chairing a panel looking at how recommendations from Lord Leveson can be applied in Scots law.
The five-person panel included a mix of senior lawyers and journalists.
Lord Justice Leveson recommended that the press should set up a tough new independent regulator, but the system should be underpinned by legislation to ensure the system was independent and effective.
Press regulation is devolved to the Scottish parliament.
Mr Salmond has supported an ombudsman-style system of press regulation, similar to the Republic of Ireland.
The first minister held a cross-party meeting with the Scottish Newspaper Society on Thursday afternoon as part of planned engagements after the publication of the Leveson Report.
A Scottish government spokesman said: "The meeting gave all of the main party leaders in Scotland the opportunity to listen to the views of the press in Scotland as the Scottish Parliament prepares to respond to the recommendations made by Leveson.
"The report by the expert group, led by Lord McCluskey on how the Leveson recommendations could be applied in the Scottish context is expected to be published on Friday and we will continue discussions with other parties on the next steps."
At Westminster, Mr Cameron said he would publish plans for a royal charter to establish a tougher press regulator and will ask Parliament to vote on it on Monday.
Both Labour and the Lib Dems said they were disappointed and surprised.
The two parties had backed statutory regulation as recommended by the Leveson inquiry into the press.