Malawi president Joyce Banda marks David Livingstone birth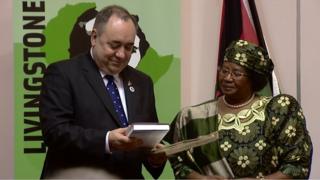 The president of Malawi is in Scotland for celebrations to mark 200 years since the birth of Scottish missionary Dr David Livingstone.
Joyce Banda visited the David Livingstone Centre in Blantyre before attending a church service with First Minister Alex Salmond.
Dr Banda has visited the South Lanarkshire town before.
But this was her first trip as president of the African country that has so many Livingstone connections.
Dr Banda paid tribute to the Scottish missionary who helped to fight slavery in Malawi and other African countries.
Livingstone was born on 19 March 1813.
He came from a humble background and, from the age of 10, worked 14 hours per day in the Blantyre Cotton Works.
At 27, he went to Africa and saw the damage caused by the slave trade.
It led Livingstone to believe that his role was to find an easy route into the heart of the continent, that missionaries and then traders could use to bring Christianity and legitimate trade.
The first minister marked the bicentenary and Dr Banda's visit by announcing funding for aid projects in Malawi focusing on healthcare and growing the economy.
Mr Salmond confirmed that 15 projects in Malawi, run by Scottish-based organisations, had been allocated £4.9m over three years from the Scottish government's International Development Fund.
He said: "I am particularly pleased that as we welcome President Banda - who is only the second ever female Head of State in Africa - that several of the projects we are supporting have a focus on women and children - such as supporting professionals delivering maternal and child healthcare - and improving maternal and neonatal care in rural areas."
Agricultural economy
Malawi, which has a population of about 15 million, remains one of the poorest countries in the world.
The southern African country, which has a major city named Blantyre after Livingstone's birthplace, is a largely agricultural economy that is making efforts to overcome decades of underdevelopment and the more recent impact of a growing HIV-Aids problem.
President Banda's three-day trip to the UK will also feature an address to the Scottish Parliament and the laying of a wreath at Livingstone's grave at Westminster Abbey.
Dr Banda said: "My visit to this historical country seeks to deepen the relationship that has existed between Malawi and Scotland since Dr Livingstone visited our country.
"I am looking forward to engaging the Scottish people on matters of trade, investment and development, which Dr David Livingstone aspired to achieve."
Meanwhile, after Dr Banda presented St Mirren with the Scottish Communities League Cup at Hampden Park, Mr Salmond also announced a new football partnership between the two countries.
As part of the 2014 Commonwealth Games legacy project, the Scottish Football Association and the Malawi Football Association will develop a joint coaching programme that will extend beyond the life of the games and feature the exchange of skills and knowledge between the two nations.
On Monday, President Banda will also meet Development Secretary Justine Greening at the Department for International Development's East Kilbride headquarters to discuss UK-Malawi development co-operation.
Ms Greening will announce additional UK support to tackle HIV/AIDS in Malawi, as well as support for healthcare.