Put your questions to Nicola Sturgeon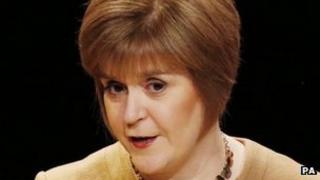 Scotland's deputy first minister, Nicola Sturgeon, will be answering your questions as the SNP spring conference gets underway.
The party is gathering in Inverness on 23 and 24 March with a focus on the independence referendum, to be held in autumn 2014.
Ms Sturgeon is taking part in a BBC webcast in which she will answer your questions.
If you have something to ask, email newsonlinescotland@bbc.co.uk
Please put "SNP questions" in the message field of your email.
You will be able to watch the half-hour interview on BBC Scotland's politics website.