SNP conference 2013: Ex-Labour MP Canavan in call for independence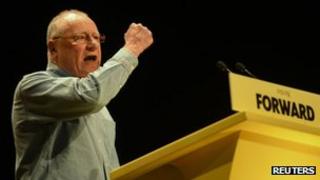 A former Labour MP has told the Scottish National Party that their supporters' votes alone would not be enough to win Scottish independence.
Dennis Canavan, who is chair of the pro-independence Yes Scotland campaign, said the "hearts and minds" of others had to be won over.
He was speaking at the SNP's spring conference in Inverness.
Mr Canavan, who left the Labour Party to become an independent MSP, has now retired from parliamentary politics.
The electorate in Scotland will be asked to vote yes or no to independence in a referendum on 18 September 2014.
Mr Canavan told the SNP conference: "For the dream [of independence] to become a reality we now need to win many more converts to the cause - people of different political persuasions.
"Simple arithmetic suggests that even if every SNP supporter in the country votes yes in the referendum, that would still not be enough to win.
"We must win the hearts and minds of people who are traditional supporters of other parties and people who have no party allegiance at all."
He added: "We in the yes campaign must stretch out the hand of friendship to all and encourage them to work with us. We may have had different personal and political journeys but what matters now is that we walk together towards a common destination."