David Cameron praises Scottish defence industry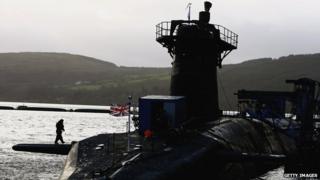 The prime minister has praised the role of Scottish companies in supplying UK armed forces and stressed the need to maintain a nuclear deterrent.
On a visit to Scotland, David Cameron described Scottish defence work as more "secure" within the UK and said "defence jobs matter".
Mr Cameron's schedule included a visit to a Trident nuclear missile submarine based on the Clyde.
The SNP dismissed what it called "scaremongering" over defence jobs.
In a statement issued ahead of the visit, Mr Cameron said: "Being part of the UK opens doors for the Scottish defence industry around the globe.
"When we sell Typhoons overseas, this benefits jobs and growth for companies making components in Scotland.
"Scotland counts for more on the world stage because it is part of the United Kingdom and Scottish defence jobs are more secure as part of the United Kingdom."
The prime minister added: "Defence matters. We are stronger and safer together."
'Obscene waste'
Mr Cameron visited HMS Victorious, one of the Royal Navy's Vanguard-class submarines, which is returning from its 100th patrol.
He later told workers at the Thales UK defence contractor in the Govan area of Glasgow that the threat from North Korea showed how important it was to maintain Britain's nuclear deterrent.
The SNP has claimed it would be a mistake for the UK government to place the Trident nuclear programme at the heart of its case for the union.
Defence spokesman Angus Robertson said: "The (Scottish) parliament and 80% of the people of Scotland want to get rid of Trident, and the obscene waste of up to £100bn it represents at a time of austerity and savage welfare cuts from Westminster.
"David Cameron should be using this visit as his opportunity to apologise for Westminster's betrayal of Scotland's communities and its constant broken promises on defence."
Referring to the effects of recent defence cuts, Mr Robertson added: "Successive Westminster governments oversaw the destruction of the Scottish regiments, and contributed to a massive £7.4bn defence underspend in Scotland compared to the rest of the UK."