Scottish Labour conference: Miliband talks of need for 'new settlement'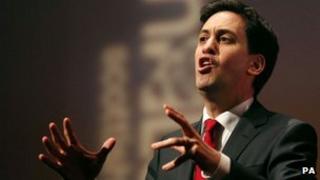 Labour leader Ed Miliband has called for a "new settlement" to heal economic and social divisions in Britain.
Mr Miliband told his party's Scottish conference his plan would ensure David Cameron was a one-term prime minister.
Delegates in Inverness heard the Labour leader's fresh approach would combine "proper rights to work with a real responsibility to do so".
Mr Miliband also launched a vigorous attack on the SNP's policy of independence.
In the week of Lady Thatcher's funeral, Mr Miliband argued she gained power because voters wanted change.
The Labour leader told delegates that the same circumstances prevail today, that people are hungry for reform - fed up with failed economic policies and mistaken welfare changes.
Mr Miliband's plan includes establishing regional banks to help stimulate local businesses, building more houses, cancelling a "millionaires' tax break" and getting people back to work.
He also criticised "rip-off" energy companies, insisting Labour can tackle them to ease the burden on household finances.
Mr Miliband told delegates: "We have huge challenges as a country and they're the challenges we've got rise to.
"And we will have to do so in difficult times, at a time when there is less money around.
"That means we need to rebuild our economy from its foundations. That is the task of the next Labour government. The way we do that is with a simple idea, a simple idea that expresses who we are as a party.
"We understand that the way countries succeed, the way economies succeed, is when you have an economy made by the many, not just the few at the top; when you back the people who do the hours, who put in the shifts, who get up in the morning before George Osborne's curtains are open and get back home at night after his curtains have closed again for the night."
He also argued that independence was a divisive policy, remote from the economic and social concerns of the Scottish people.
Turning to the SNP, Mr Miliband said the Nationalists offer "the same divisive politics" as the Tories, just "a different form of division".
SNP leader and First Minister Alex Salmond is not focused on "the real issues that shape people's lives", and Mr Salmond does not understand the new economic settlement, he said.
Mr Miliband added: "What does he want Scotland to do, to compete in a race to the bottom in corporation tax rates with the rest of the United Kingdom?
"It's a narrow nationalism. A narrow nationalism that makes cosy deals with Rupert Murdoch and a narrow nationalism that prays for Tory success because he thinks it's the only way to convince the people.
"I have never heard such a self-serving, selfish, narrow-minded, blinkered piece of nonsense in my life."
Income tax
The UK faces huge challenges which can only be overcome by working together, Mr Miliband said.
He added: "We have something none of the other parties have: the power of a people joining together. Let's leave the Tories to divide our society, let's leave the SNP to try and divide our country. We are the unifiers. We are the one nation party. We are the ones who can turn Scotland round."
The day before Mr Miliband's speech, Scottish Labour announced details of a commission which said there was a "strong case for devolving income tax in full" to the Scottish Parliament.
Labour's commission, which includes MPs, MEPs, union members and academic advisers, said there was a case for devolving income tax but there are big caveats.
But it will shun any plan if it looks like cutting Scotland's money or undermining the Barnett formula which settles budget changes.