Labour's Lewis Macdonald accuses SNP ministers of botched justice reforms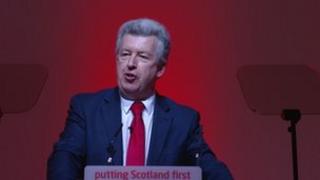 Scottish Labour's justice spokesman Lewis Macdonald has accused the SNP government of botching changes to the police and justice systems.
The MSP told his party's spring conference ministers had failed to build a "consensus for change".
He was speaking following the introduction of a single Scottish police force on 1 April.
The government also plans to close 10 sheriff courts and extend means-testing for criminal legal aid.
Addressing delegates at the gathering in Inverness, Mr Macdonald said that after the SNP had "finally signed up" to a single police force and fire service, it rejected dozens of amendments "designed to ensure local accountability and to protect front-line services".
The politician added: "All that matters to the SNP is the rhetoric of 1,000 extra police officers, even if the reality is fewer police officers on the streets."
Mr Macdonald continued: "And it is not just police and fire reform this government has botched so badly.
"They could have built a consensus for change in extending means-testing for criminal legal aid, but chose not to do so.
"Instead, they treated lawyers and their clients with such contempt that they provoked industrial action in our courts, and divided the legal profession along the way."
He believes that court closures would mean more people having to travel further and face ever longer delays in accessing justice.
Mr Macdonald pledged that Labour would challenge SNP ministers in the coming months to "put their money where their mouth is, and to back up the rhetoric with real resources".
He added: "Labour is listening to communities, just as we are listening to victims."
The MSP went on to announce to conference that Labour was launching an initiative to make Scotland safer.
He explained: "We plan to develop a safer streets network, to give support to communities struggling with the impact of crime and anti-social behaviour.
"We will listen to local people, working through local elected councillors, MPs and MSPs to identify the key issues."