Leveson Inquiry: MSPs to vote on UK-wide regulation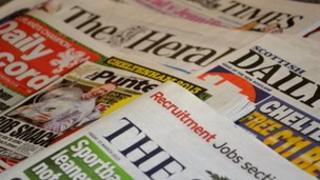 MSPs will vote on Tuesday to agree to support UK-wide press regulation.
The Scottish culture secretary, Fiona Hyslop, met with Holyrood's party leaders on Thursday.
They agreed to back changes to a royal charter which have been suggested by the leaders of the UK's main parties, to make it compliant with Scots law.
The newspaper industry announced plans to apply for their own royal charter, describing the UK party leaders' version as unworkable.
Reforms to the way the press is regulated were recommended by Lord Justice Leveson in his report into the ethical standards of the industry following the phone hacking scandal.
Ms Hylop said: "The Scottish government welcomed the consensus previously reached by Westminster on proposals for a royal charter on press regulation and hopes this can be maintained.
"Whilst we recognise the decision of parts of the newspaper industry to propose an alternative charter, and will be watching developments closely, all parties in the Scottish Parliament have agreed to a debate on Tuesday on proposals for the Scottish government to support a royal charter subject to it properly reflecting Scots law and devolved responsibilities."
Final opportunity
Holyrood's education and culture committee has been looking at ways Scotland might implement the Leveson Report on the media.
Committee convener Stewart Maxwell said they had concluded that a UK-wide royal charter could give the press "one final opportunity to change". Failing that, legislation would be required.
Mr Maxwell said: "The newspaper industry in Scotland is rightly proud of its role within Scottish public life. But where there is freedom of the press there is also responsibility to ensure fair reporting.
"Within the short timescale available to us, the committee has listened to the views of witnesses who were clear that the press should be given one final opportunity to change.
"We feel a UK-wide royal charter allows the industry in Scotland, and indeed beyond, to do just that.
"For such a system to work, there must be participation of the press and this must be done willingly.
"Without this, the system will fail. Should that happen, then legislation must surely be the only option. The public would expect nothing less of its parliament."
In March a review of the implications of Leveson in Scotland chaired by Lord McCluskey recommended statutory controls underpinned by law.
MSPs have now moved away from these recommendations in favour of the royal charter proposals.
Lord McCluskey called for a compulsory system underpinned by law for newspapers and online news providers and in a letter to The Scotsman newspaper argued a royal charter would depart from the fundamental Leveson principle of "statutory underpinning".