New Forth bridge plans move ahead at Scottish parliament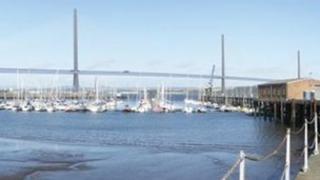 MSPs have passed a bill to set up a new company to manage the Forth Road Bridge, the new Forth Crossing and the surrounding roads.
The legislation will allow the existing Forth Road Bridge to be used for public transport, cyclists and pedestrians.
Staff from current bridge managers, the Forth Estuary Transport Authority, will transfer to the new operating company.
The move comes with just two weeks to go before a competition ends to find a name for the bridge.
More than 27,000 people have so far voted on the five options.
The vote at Holyrood on the legal framework for the new crossing lays out technical issues, such as the management and maintenance.
Under the new scheme, Feta will be dissolved and all functions and assets transferred to the Scottish government to allow a tendering process to take palce.
All employees will transfer to the company appointed to operate the bridge. The new crossing is expected to be completed in 2016.
Transport Minister Keith Brown said: "The Forth Road Bridge Bill is a step forward in managing the future of transport across the Firth of Forth.
"We will now take forward a robust tendering process to ensure that the high quality of service delivered by the current operators Feta continues and is improved upon where possible.
"Existing Feta staff will transfer over to the new operating arrangements, bringing with them a range of experience and expertise to contribute to refreshed operational efficiency, improved capacity and safety in the future of the Forth Road Bridge. "
The minister said that at the heart of the new contract would be a requirement to engage with the local community to help shape and influence the future of cross Forth transport.
To find a name, the Scottish government launched a public consultation which saw more than 7,000 ideas submitted - before being whittled down to the five finalists.
Mr Brown said: "Other countries have been showing an interest in the way we are engaging the people of Scotland in the search for a name for the Forth replacement crossing.
"The response from the public has been tremendous, with over 27,000 people having voted so far."
The five options are Caledonia Bridge, Firth of Forth Crossing, St Margaret's Crossing, Queensferry Crossing and Saltire Crossing.