Scottish independence: Kirk approves separate coronations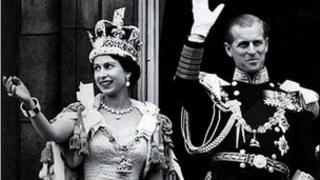 The Church of Scotland's ruling General Assembly has approved a call to crown monarchs in both England and Scotland, should Scotland becomes independent.
Its annual gathering said a separate ceremony would symbolise a monarch's role as King or Queen of Scots.
Reverend Sally Foster-Fulton said it would give "an opportunity for people of all faiths and no faith to create together this civic occasion".
Charles II was the last monarch to be crowned in Scotland, in 1651.
The Church, which would expect to play a prominent part in a separate investiture, says it would also serve as a reminder of the monarch's obligation to uphold Scottish religious life and traditions.
"Monarchs are the kings and queens of the Scottish people," Mrs Foster-Fulton, convener of the Church of Scotland's church and society council, said.
"They rule with the consent of the people.
"A coronation would be a wonderful celebration of that important relationship."
Buckingham Palace has previously said the debate was "a matter for the Church of Scotland and not something we would comment on".
Charles II's coronation took place at Scone Palace in Perthshire on New Year's Day 1651.
Since the union of the crowns of Scotland and England in 1603, all British monarchs have been crowned at Westminster Abbey in London.
The proposal to crown future monarchs in Scotland as well was one of a number of recommendations put forward to the Kirk's General Assembly in a report written by three of the church's bodies: the Church and Society Council, the Committee on Ecumenical Relations and the Legal Questions Committee.
The Assembly also backed calls for the Church's own constitution to be acknowledged as lawful in any Scottish national constitution and it approved a call from the Church and Society Council for a draft document to be made public before the vote on independence on 18 September 2014.
BBC religious affairs correspondent Robert Pigott said that, although the Church was remaining strictly neutral on whether or not Scotland should become a separate country, it was concerned to maintain its own position as a leading voice in public debate.