Scottish independence: University fee structure 'legal'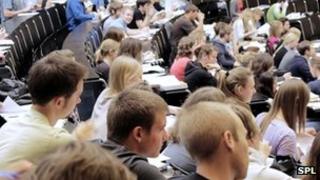 Students from the rest of Britain could still be charged university fees in Scotland after independence, according to legal advice seen by BBC Scotland.
Lawyers advising Scottish universities say this would not breach European law.
A recent paper by Edinburgh University academics had said independence could mean Scottish students being squeezed out of Scottish universities.
They had argued that students from the rest of Britain would be entitled to free tuition.
The current Scottish policy of free tuition in higher education applies to students from Scotland or from most of the European Union.
Students from England, Wales and Northern Ireland do pay.
Advice sought by Universities Scotland from Anderson Strathern solicitors has indicated that it would be possible in principle to continue with such a fee structure.
It suggested that it would be up to the government of an independent Scotland to decide whether or not it wanted to do so.
Questions about the legality of tuition fees after independence were raised in research by Sheila Riddell, Elisabet Weedon and Sarah Minty.
Their briefing paper, published last week, was funded by the Economic and Social Research Council.
The Funding of Higher Education in Scotland, the UK and Internationally suggested that funding education post independence would "represent a major challenge".
It said: "Clearly, free tuition in Scotland would be a major attraction for students from the UK and other EU member states.
"However, there would be a danger that such students could squeeze out Scottish domiciled students."
The authors had warned there could be a funding shortfall for higher education in an independent Scotland.
The Scottish government said it was committed to free education and there would be a "range of options" to maintain the balance of students post-independence.