John Swinney urges George Osborne to invest more in capital projects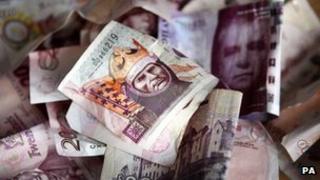 The UK Government has been urged to "realise the error of its ways" and invest more cash into capital projects.
Scottish Finance Secretary John Swinney said the next UK spending review was a "prime opportunity" for Chancellor George Osborne to change policies.
Mr Swinney issued the plea as finance ministers from the UK's four administrations prepared to meet in Northern Ireland On Monday.
The chancellor wants to cut spending by £11.5bn in the year from April 2015.
Mr Swinney described reports the Treasury had already reached agreements on savings with several departments as "deeply worrying".
Cuts warning
Speaking ahead of the finance quadrilateral in Belfast, Mr Swinney said: "The chancellor must change the UK's approach to the economy and deliver greater capital investment to stimulate growth, support construction and end the attacks on vulnerable people in Scotland.
"We must not allow Westminster's wrong-headed approach to ruin Scotland's economic recovery or to create further inequality in our society.
"The reports this week that the chancellor has reached agreement with seven Whitehall departments on savings he wants to make in 2015 are deeply worrying.
"These cuts could equate to 8 to 10% of the Scottish budget and would have significant impact on the services provided for the people of Scotland.
"The UK spending review is a prime opportunity for Westminster to realise the error of its ways and follow the international advice that they should be investing in capital projects and investing now."
In his autumn statement last year Mr Osborne announced an additional £5bn he wanted to see spent on buildings and infrastructure, with Scotland getting about £394m in extra capital funding.
After the chancellor's budget statement in March, the UK Treasury wrote to government departments warning most ministers they will have to cut up to 10% from their budgets for the year 2015-16.