Court closure campaigners stage Holyrood protest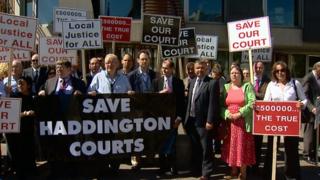 Campaigners against the closure of 10 sheriff courts have been demonstrating outside the Scottish Parliament.
They staged the protest as Scotland's most senior judge, Lord Gill, and Justice Secretary Kenny MacAskill appeared before the justice committee to defend the reforms.
It is estimated the closures would save £1m each year, in addition to a one-off initial saving of £3m.
Mr MacAskill told MSPs the proposals would lead to a better service.
Appearing before the justice committee, he said: "Many of Scotland's courts date from Victorian times and are not fit for purpose in the 21st Century, and many are under-used.
"The reality is it is a better use of a shrinking budget to concentrate funds on a smaller number of better-equipped courts where modern facilities are provided for victims, witnesses and jurors."
'My court'
The justice secretary acknowledged the central role the courts have in local communities but said many of the towns they were built to serve have shrunk.
He added: "These courts provide great history and a great landmark in our communities, but equally they come with challenges in the modern world.
"They're lovely to look at, but they cost a fortune to maintain."
Opponents of the reform plan have queried the figures and said the closures would make it more difficult for people to get to court.
They have argued this would put a strain on support services and result in more people not turning up.
They also claim the remaining courts would struggle to cope with increased workloads.
Labour MSP Iain Gray said Haddington Sheriff Court meets the Scottish government's efficiency target of disposing of 85% of cases within 20 weeks and costs £2,416 a day, but is being subsumed into Edinburgh which falls short of target at 58% and costs more than £4,000 a day.
"My local court is delivering close to your target," he told Mr MacAskill. "Why are you going to close my court and move it to Edinburgh?"
The justice secretary said: "I don't think it's your court, as such. You are the elected representative.
"You have spoken in parliament about how it was there pre-reformation. Equally, there are a variety of other matters that have had change in that time from capital punishment to the stocks. Life moves on."
'Bridge the gap'
Lord Gill and the chief executive of the Scottish court service, Eric McQueen, also appeared before MSPs to answer questions on the proposed reforms.
The Law Society of Scotland has called for further discussion of the closure plans.
Its president Bruce Beveridge said: "A local court offers the opportunity to see justice done and to bridge the gap between crime in local communities and its detection and resolution.
"In addition they make a significant contribution to the economic activity in their local communities and we're not convinced that this has been factored in.
"It is really important that the role that the public sector makes in a local community, particularly in rural Scotland where most of these closures are planned, is fully recognised."
He added: "We are grateful for the committee's deliberations but we hope there will be an opportunity for all MSPs to debate in full such an important issue."