Scottish targets for climate change missed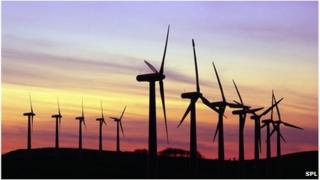 Scotland has failed to meet its climate change targets for the second consecutive year.
A greenhouse gas report for 2011 showed that emissions narrowly exceeded the official target.
The Scottish government insisted the statistics showed Scotland was on track to meet its overall goal of reducing greenhouse gas emissions by 42% by the end of the decade.
Environmental campaigners described the figures as disappointing.
Emissions fell by 2.9% between 2010 and 2011, but fell just short of the 2011 target for adjusted figures, which take into account the EU Emissions Trading System.
Scotland's Climate Change Minister Paul Wheelhouse highlighted an overall 9.9% reduction in the unadjusted emissions figures.
Mr Wheelhouse said: "Despite changes to the historical data on emissions, making this year's target harder to achieve, we have come within touching distance of it, and the revised targets mean we will all need to focus our efforts in the future to stay on course.
"Whilst I am disappointed we have not achieved our climate change reduction goal for 2011 in carbon terms, we have met it in percentage terms - with a 25.7% reduction between 1990 and 2011."
Overall, the Scottish government wants to cut carbon emissions by 42% by 2020 and is committed to a series of annual emission reductions targets, which are currently legislated from 2010 to 2027.
The government said provisional figures showed almost 39% of Scotland's electricity needs came from renewables in 2012.
Between 2010 and 2011, there were large decreases in greenhouse gas emissions in the energy supply and residential sectors.
This was attributed to reduced consumption of coal in power stations and a drop in natural gas consumption.
Dr Sam Gardner, of the Stop Climate Chaos Scotland coalition, said the missed target was "very disappointing".
He added: "We recognise that this is due in part to complicated changes on how we count our emissions, but the headline of another missed target strongly underlines the need for a much tougher climate action plan, expected out later this month, that will drive down emissions year-on-year and give confidence that future targets can be met.
"With increasingly tougher targets in the future, ministers must up their game if Scotland is to deliver on climate justice and is to reap the rewards of the transition to a low carbon future."
Scottish Labour environment spokeswoman Claire Baker said: "With around 40% of emissions coming from transport and housing then robust discussion must be taking place around the cabinet table.
"The Scottish government must now return to parliament before the summer recess to fully explain why this target was missed and what action they will take to get back on track."
A Scottish Liberal Democrat spokesman said policies to tackle climate change remained "too woolly".