Scottish court closures: Labour say plans bad for justice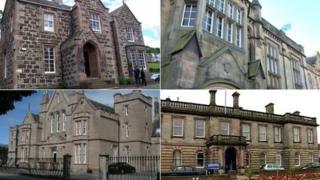 Scottish Labour have warned that plans to shut several sheriff courts across Scotland would be bad for justice.
The proposals, to be voted on by MSPs on the justice committee next week, would see the closure of 10 sheriff courts, saving £1.3m each year.
Justice Secretary Kenny MacAskill has said new "justice centres" would lead to a better service.
Opponents have queried the figures and said the closures would make it more difficult for people to get to court.
The plans to close 10 sheriff courts around the country were approved by the Scottish government in April.
The changes, proposed by the Scottish Court Service, will also see seven justice of the peace courts closed, with business transferred elsewhere.
In addition, the number of courts hearing sheriff and jury cases across Scotland will be reduced.
New "justice centres" would see areas move court business, police, social work and victim support services under one roof.
Scottish Labour's justice spokesman Lewis Macdonald told the BBC's Sunday Politics Scotland programme: "Closing Dingwall and putting business into Inverness, local experts say, will double the length of time trials take there.
"Closing Haddington and putting business into Edinburgh will have the same effect.
"The question here is what is going to improve the efficiency of the courts and what's going to make it worse and our opinion is that many of these proposals will clearly make things worse."
The justice committee, which has an SNP majority, will vote on the issue on Tuesday. Mr Macdonald has tabled a motion to annul the proposals.
SNP MSP Christine Grahame, who is the committee convener and has a casting vote, said the issue was not decided but should be based on evidence.
She said the committee had questioned Scotland's most senior judge Lord Gill, who said the moves were the way forward and would not affect access to justice.
Ms Grahame added: "We've got the debate, there's a lot still to be said. I hope that people base their decisions on the evidence in the round, that's all you can do when you're on a committee, that's what you ought to do."
A Scottish government spokeswoman said that while the Scottish Court Service (SCS) operated independently of the government, it was not immune from the same financial pressures.
She added: "We believe these changes are compatible with our wider justice reforms, and SCS estimate they can save £1m a year in running costs and £3m in maintenance costs, money which can be better spent on improving services and facilities at a smaller number of courts.
"Unfortunately, the fragmented and outdated court system we inherited - where many smaller courts are not fit for purpose and are under-used - is no longer sustainable."
'Local voices'
The Liberal Democrats have urged SNP committee members to rebel on the issue.
Party justice spokeswoman Alison McInnes said: "SNP members and the independent member of the justice committee need to listen to the voices in their local communities.
"They need to listen to voices of solicitors, victims, witnesses, jurors and police officers who know that Kenny MacAskill's proposals are nothing but bad news for local services and democracy."
If the motion against the proposals were successful the issue would move to the full Holyrood chamber.
Campaigners argue the plan would end 500 years of local justice and put a strain on support services and result in more people not turning up.
They also claim the remaining courts would struggle to cope with increased workloads.
The proposals have also been met with opposition from the Law Society, unions and some local MSPs.