Lost in space with Iain Banks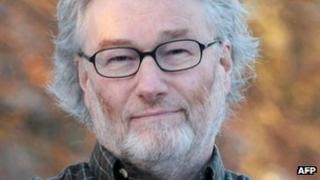 I had the pleasure of chairing Iain Banks a number of times at the Edinburgh International Book Festival. Once, by simple mistake, I ended up chairing Iain M. Banks, his sci-fi alter ego.
He engaged amicably and enthusiastically with his notably devoted followers, discussing the Culture which was at the core of his science fiction work. Iain was in his (scientific) element. I was lost in space.
Iain, of course, made an enormous contribution to culture rather closer to home, in the Crow Road rather than the Milky Way. His early death is a tragic loss although, characteristically, he had responded to his searing illness with determination and dry wit, noting wryly that he was "officially Very Poorly".
His work marks him out, quite simply, as one of Scotland's finest writers: not just of these times but across the generations.
His erudition was apparent but never over-reaching. His wit could be satirical but never brutal: hugely funny but not aggressively so. He had the artist's distaste for political compromise and obfuscation - but allied to an appreciation of the real world around him.
Above all, he had an apparently effortless mastery of words - drawn, of course, from intense effort and application. More, he was a thoroughly decent, warm human being. More than one, I am sure, will recall that he was excellent and convivial company.
All that - and he undertook, entirely selflessly, an extended tour of Scotland's many whisky distilleries in order to regale us in print with his search for the perfect dram. A noble endeavour, pursued without thought for himself.
Salute him. Remember him.