Scottish independence: Swinney says pensions 'would be stronger'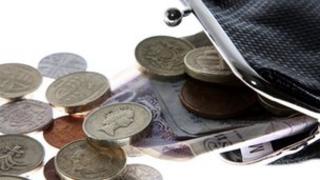 Senior citizens would have stronger pension safeguards than the UK if Scotland became independent, the finance secretary has claimed.
John Swinney told a gathering in Glasgow that Scottish pensions would be fully protected after independence.
He said a single-tier state pension from 2016 would be uprated by whatever is higher - earnings growth, inflation or 2.5%.
Opposition parties questioned how Scotland would pay for pensions.
Mr Swinney was speaking on the issue during the Institute of Chartered Accountants Scotland Pensions Conference.
'Triple lock'
The finance minister said the "triple lock" plan compared with a UK guarantee which is currently only set on a rise by earnings.
He said: "The Scottish government has made clear that pensions will be fully protected in an independent Scotland.
"Independence will give us the opportunity to ensure that future improvements to the provision and regulation of pensions of Scots are made by a parliament which is fully accountable to the people of Scotland.
"Whilst decisions about future levels of these benefits will be determined by future Scottish governments, we are announcing today that we would uprate both the existing Basic State Pension and the new single-tier pension using the triple lock, ensuring peace of mind for current and future pensioners."
The finance secretary claimed there would be a seamless transition for state pensions following a vote for independence.
Voters go to the polls on 18 September next year when they will be asked a single yes/no question: "Should Scotland be an independent country?"
However, Labour's Gregg McClymont said he was "astonished" Mr Swinney had "refused to level" with Scots about the future of their pensions.
He said: "Scotland was already facing a pensions timebomb as the number of elderly rocketed compared to the rest of the UK.
"Now the SNP, to cover the fact they can't answer key questions about the implications of separation for our pensions, has put another huge black hole in Scotland's future."
'Serious questions'
The Institute of Chartered Accountants Scotland (ICAS) published a report last month titled Scotland's Pensions Future: What pensions arrangements would Scotland need? in which it suggested there could be "major cost and cash flow implications for employers" with deficits required to be paid off on the day of independence.
Scottish Conservative finance spokesman Gavin Brown said: "This is a desperate move by the Scottish government to salvage some kind of credibility on a key issue of independence.
"However, this cobbled together announcement does not even contain any sums never mind the workings of how the SNP would pay a separate Scotland's pension bill, which currently costs more than £6bn a year."
Scottish Liberal Democrat leader Willie Rennie said: "Instead of promising everything and costing nothing they should answer the serious questions posed by ICAS about the security of pensions after independence."
The Scottish government is due to publish a paper in the near future on pension provision in an independent Scotland.