Call for views on Scotland's lap dancing clubs policy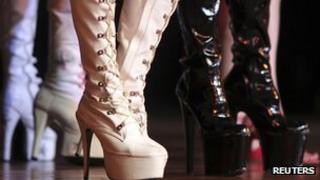 Local communities could be given a greater say on whether lap dancing clubs are given licences to operate.
The Scottish government is consulting on proposals to establish a new licensing regime for sexual entertainment venues.
The fresh approach aims to ensure the safety and protection of customers and staff while protecting the interests of the local areas in which they operate.
Controversy was caused in May when a new Highland's lap dancing club opened.
Opposition to application from nightclub Hush in Inverness came from Highland Violence Against Women Strategy Group.
It raised concerns about the exploitation of women and claimed the activity could increase crime.
However, a report to Highland Licensing Board said the nightclub had had a trouble-free operating history and a high standard of compliance with licensing rules.
The government's consultation into sexual entertainment venues came about after plans to introduce a specific system of licensing as part of the Criminal Justice and Licensing (Scotland) Act 2010 were rejected by Holyrood because they were introduced late in the Bill process.
At the time ministers pledged to return to the issue.
They hope an new regime will ensure more control over the number and location of venues in certain areas.
The consultation will also seeks views on whether local authorities should be able to set the total number of licences for such venues in their areas at zero.
Justice Secretary Kenny MacAskill said: "It is right that local people should have the ability to have a say in the character of their communities.
"This consultation seeks views on proposals that will give local licensing authorities the powers to reflect local views and control the presence and operation of such venues in their areas.
"These venues undoubtedly divide opinion, however the proposed licensing regime is about ensuring the safety and protection of customers and workers while making sure the interests of local communities are protected."