Scottish independence: Holyrood business to stop ahead of referendum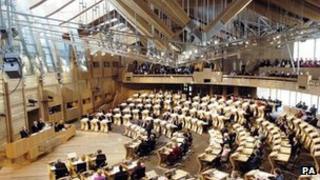 Business at the Scottish Parliament will stop in the weeks running up to the independence referendum on 18 September 2014.
A new parliamentary timetable has been agreed by the SNP, Scottish Greens and independent members.
It will mean recess beginning in July, with MSPs returning for three weeks in August before leaving Holyrood for the 28 days before the referendum.
Labour's Paul Martin said it was wrong for MSPs to put "the day job" on hold.
The Scottish government said the timetable change would result in members sitting the same number of weeks.
The shut down would also coincide with restrictions on what government and public bodies could say ahead of the vote.
The Scottish Conservatives insisted the move showed the SNP using its majority to "bully the parliament to suit their own separatist agenda".
Labour's Mr Martin said: "The business of government, which the SNP was elected to carry out, needs to go on and the public would not expect Scotland's politicians to put the day job on hold for four weeks so they can campaign in the referendum."
"The idea that the first minister can open or close parliament at his whim has terrifying consequences for Scottish democracy."
It has already been agreed that the campaign period for the referendum would total 16 weeks.
When Scotland's electorate go to the polls they will be asked the simple "yes/no" question: "Should Scotland be an independent country?"