Rise in prescriptions dispensed in Scotland slows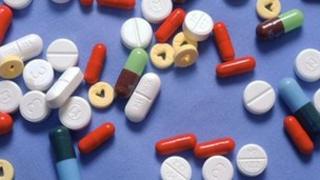 The rise in prescriptions has slowed in Scotland and the cost to the taxpayer has dropped, the latest figures showed.
There were 96.8 million prescriptions handed out in 2012/13 at a cost of £1.1bn, according to the NHS information services division.
Volume rose by 2.3% on 2011/12, a smaller rise than the 3.8% between 2010/11 and 2011/12.
The official figures show costs dropped by 5%, the first fall in almost a decade.
They also revealed a steady rise in the use of generic drugs, which provide a cheaper alternative once the developers' patents have expired.
Branded products now account for 17% of prescriptions compared with 21% in 2003/04.
The drug that cost the most in total was Fluticasone-Salmeterol, which is produced by GlaxoSmithKline for respiratory conditions.
At £58 per prescription for more than 750,000 people, it cost the taxpayer £44.38m.
The most expensive single medication was cancer drug Imatinib, owned by Swiss pharma giant Novartis, which costs £1,816 each and was given to 165 people at a cost of £300,000.
Scottish Conservative health spokesman Jackson Carlaw said: "With drugs getting cheaper and more widely available, it is to be expected that the overall cost will come down.
"However, the rise in dispensing shows that there is a growing public expectation that prescriptions will be dished out for more or less anything, even toothpaste and sunscreen.
"In the long run it is frankly unsustainable to hand out free prescriptions to those who can more than afford it, and many of whom would be perfectly happy to pay."