Scottish Parliament sees 200th act created with Royal Assent of bridge bill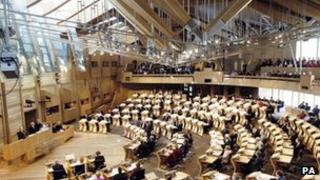 The 200th act of the Scottish Parliament will be created later when the Forth Road Bridge Bill receives Royal Assent.
Holyrood was four months old when its first piece of legislation was enacted.
That was the Mental Health (Public Safety and Appeals) (Scotland) Act 1999 designed to protect the public from serious harm.
In 2002 free personal care for the elderly became law and the public smoking ban was passed in 2005.
The Forth Road Bridge Bill will become the official 200th act when the Great Seal of Scotland is applied to its documentation.
Presiding Officer Tricia Marwick said: "The breadth of legislation that has been passed has helped to shape the lives of the people of Scotland.
"It is fitting that the 200th act will now help to shape the future of one of Scotland's most famous landmarks."
Other key pieces of legislation highlighted by the Scottish Parliament include the Freedom of Information (Scotland) Act 2002 which gave everyone the right to ask for information held by a Scottish public authority and the Double Jeopardy (Scotland) Act 2011 which allowed an accused person to be tried twice for the same offence.
The passage to Royal Assent begins after the bill is voted through by MSPs.
The various stages include;
Letters are sent to the law officers (Advocate General for Scotland, the Lord Advocate and the Attorney General) advising them of the four week period in which they can raise legal objection to a bill
If no objection is made by the law officers, or the four week period has passed, the presiding officer writes to the Queen enclosing the bill and a Royal Warrant for signature.
When the bill and Royal Warrant are returned to the Scottish Parliament, the warrant is hand-stitched together.
The documents are then delivered to Registers of Scotland, in Edinburgh, where the Great Seal of Scotland is applied.
And notices are then placed in the official journals of record - the London, Edinburgh and Belfast Gazettes signalling that Royal Assent has been given.
In all of the 200 Holyrood acts, the Great Seal of Scotland has been made using beeswax supplied by a specialist firm in East Lothian.