Unite threatens legal action over Falkirk Labour row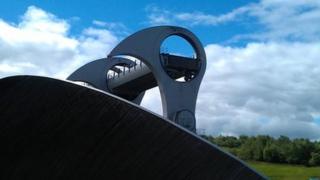 The Unite union has said it may take legal action against the Labour Party over the selection of a parliamentary candidate.
Labour is seeking a candidate to replace Eric Joyce as MP for Falkirk.
The party took control of the selection process after it said it found evidence of unions packing local membership lists.
In a letter to union members, Unite General Secretary Len McCluskey accused the party of a "smear campaign".
Mr McCluskey claimed Labour is effectively excluding trade unionists from the selection process.
The sitting MP, Eric Joyce, resigned from Labour after admitting assaulting four people in a House of Commons bar.
Labour is choosing its candidate from an all-woman shortlist.
When it announced on 25 June that it was to impose "special measures" on the Falkirk constituency, Labour said it was acting to uphold the integrity of the party.
A spokesman said: "After an internal inquiry into the Falkirk constituency we have found there is sufficient evidence to raise concern about the legitimacy of members qualifying to participate in the selection of a Westminster candidate."
One of the measures imposed by Labour headquarters will prevent anyone who joined the party after 12 March 2012 - when Mr Joyce said he would be stepping down - taking part in the selection process for his successor.
'Rights of members'
In his letter, Mr McCluskey wrote: "These decisions have been taken on the basis of an 'investigation' into the CLP (Constituency Labour Party), the report of which your union has not been allowed to see.
"As a result, not only are the rights of Falkirk CLP members being ignored, Unite is being subjected to a behind-the-scenes smear campaign.
"We will be challenging this procedure and this campaign through all proper channels within the party, publicly and by legal action if necessary."
Mr McCluskey has voiced doubts about whether Labour can win the next general election and called on the party to adopt a more radical alternative to the coalition government's austerity policies.
His letter to members adds: "It is certainly our belief that Labour needs more trade unionists in parliament, as opposed to seats being handed out on a grace-and-favour basis to Oxbridge-educated 'special advisers', but we make no apology for that.
"Labour's future depends on it becoming more representative of the communities it seeks to represent."