MSPs set for substantial pay rise after watchdog recommends salary increases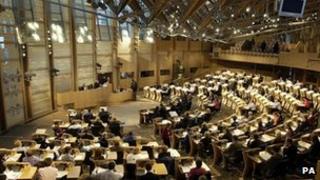 Members of the Scottish Parliament could be in line for a substantial pay increase following a recommendation to raise the salaries of MPs.
The pay of MSPs is formally linked to that of MPs.
At the moment politicians at Holyrood receive just over £58,000 - 87.5% of an MP's basic salary of £66,396.
If the proposals for members of the House of Commons go ahead, MSPs would see their basic salaries increase to around £64,750.
A spokeswoman at Holyrood said a ''substantial'' rise in member pay would have to be approved by the Corporate Body of the Scottish Parliament and probably also by MSPs themselves.
The Independent Parliamentary Standards Authority (Ipsa) has recommended that MP pay should rise by £6,000 to £74,000 per annum after the 2015 general election.
It also recommended cuts to perks such as meal allowances and taxis, a less generous pension scheme and the trimming of "golden goodbyes" paid to retiring MPs.
The watchdog is to consult on the rise but MPs cannot block it because they handed control of the decision to the independent body in the wake of the 2009 expenses scandal.
The Scottish Parliament passed a resolution in 2002 linking MSP salaries to MP salaries.
First Minister Alex Salmond rejected as "ludicrous" plans to increase the pay of elected parliamentarians.
He said: "Pay for MPs - and MSPs - should not rise beyond the limits of the restraints currently placed on public sector pay.
"It is ludicrous to suggest that parliamentarians should be given anything beyond these norms, at a time when public sector workers are having to make do with much, much lower pay increases."
Scottish Labour's Paul Martin echoed those comments.
He said: "Given the harsh reality of the current economy and the struggles facing families, I hope common sense will prevail and these proposals will be thrown out after the consultation process."