Scottish independence: BBC's James Naughtie takes referendum role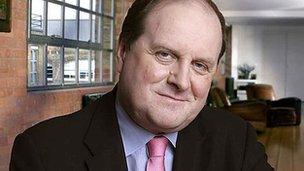 Presenter James Naughtie is to play a key role in the BBC's coverage of the Scottish independence referendum.
He will present the Good Morning Scotland radio programme on Radio Scotland two days a week beginning in the autumn.
The broadcaster will also act as a chief reporter for Radio 4's coverage of the run up to the vote next year.
It follows the announcement of a £5m investment package to help boost the BBC's referendum output.
BBC Scotland has also said it planned to recruit 15 journalism trainees, supported and provided by the BBC's College of Journalism.
It is also currently advertising for an editor to head up its referendum unit, a production manager and three online Scottish political posts.
Naughtie, who is from north-east Scotland, has been a core part of the Today presenting team at Radio 4 since February 1994. He will continue to to present the Today programme as well as taking on the new role at Good Morning Scotland.
He will also work on specially commissioned documentaries and a series of debates from across Scotland.
Naughtie said: "I am thrilled at this enhancement of my role on Today. The constitutional debate and the decision next year have great historic importance for Scotland and the whole of the UK, so I am excited to be in the thick of it, on both sides of the border, from start to finish.
"The opportunity to spend more time working in Scotland in Referendum Year is something that I am looking forward to immensely. This is one of the great stories of our time and I'm delighted to be so involved in it."
BBC Scotland director Ken MacQuarrie said: "The referendum story is of huge significance for BBC Scotland and I'm delighted James will be contributing to our coverage of it as part of the Good Morning Scotland presenting team."
Following the referendum on 18 September, 2014, James will resume presenting on the Today programme full-time prior to the General Election in 2015.
The new journalism trainees will be taught TV, Radio and online skills in a classroom setting in Glasgow, as well as on the job. They will work on a raft of referendum content for all BBC outlets.
The BBC's annual report, published on Tuesday, included research evidence on how well the public believe the corporation is performing.
It found 48% of Scottish repondents believe the BBC is good at representing their life in its coverage of news and current affairs.
This compared with a figure of 58% in England.
Related Internet Links
The BBC is not responsible for the content of external sites.