Scottish government gives Malawi £3m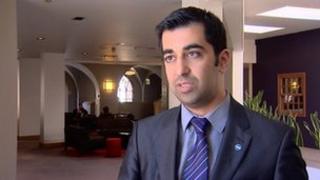 An aid package of more than £3m has been unveiled by the Scottish government for projects in Malawi.
The money is for initiatives to improve education and health as well as others designed to promote sustainable economic development.
The funding, which will total £3,190,865 over the period 2013-16, is going to nine projects.
International development minister Humza Yousaf said the aid will make a "real difference".
Earlier this year First Minister Alex Salmond pledged almost £5m for projects run by Scottish-based organisations and their partners in Malawi.
But as details emerged the Tories were critical of aid being given "at a time when money is so tight".
Colleges budget
Conservative MSP Alex Johnstone said: "Scotland has strong and historical links with Malawi and it's important they are maintained. However, that does not extend to sending millions of pounds overseas to achieve the supposed political objectives of the Scottish Parliament.
"The SNP cut the colleges budget last year and there are plenty of people who the Scottish government should be helping that would benefit from that cash, particularly at a time when money is so tight."
But Mr Yousaf said: "When we hear about the adversity that so many young people in Malawi face and the obstacles they encounter every day just trying to get an education, keep themselves healthy and stay safe, it is clear that we must do all that we can to help."
The Scottish government has an international development fund of £9m each year with one third committed to Malawi.
Mr Yousaf announced the latest funding on a visit to the Tearfund charity, which works with children in the Karonga region of Malawi and which will receive almost £400,000 for its work.
He said: "I am delighted we are supporting this Tearfund project and a further eight projects."
Lynne Paterson, the Tearfund's Scotland director, said: "It's fantastic to have this further support from the Scottish government.
"It will continue to help us empower and equip over 35,000 children in the north of Malawi to protect themselves from harmful cultural and social practices which expose them to abuse, deny them education opportunities and put them at greater risk of HIV infection."