Scottish independence: Economist Gavin McCrone questions oil fund affordability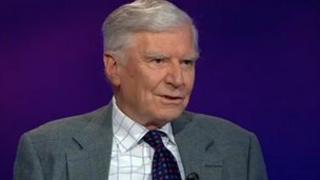 A leading economist has questioned whether an independent Scotland could afford to put money into an oil fund.
Gavin McCrone said he "liked" Alex Salmond's idea of setting up a sovereign fund similar to Norway's.
But he argued it might not be possible to do so "for quite some time" given the current economic climate.
Mr McCrone is a former government adviser who has written a new book weighing up the economics of independence.
He produced a civil service briefing paper in 1974 which said an independent Scotland could be economically prosperous and have "massive surpluses both on its budget and on its balance of payments... for a very long time into the future".
The paper, which was not made public for 30 years, said the discovery of North Sea oil had "completely overturned the traditional economic arguments used against Scottish nationalism".
Speaking to the BBC's Newsnight Scotland programme on Wednesday, Mr McCrone said he still backed the principle of an oil fund.
He said if the UK had established such a fund 40 years ago, the country's "whole economic situation would have been different".
But he added: "The only thing is whether you can afford to put money in it at the moment.
"In the early 1980s the oil revenues in present day prices would have been about £28-30bn. They are now between £5-10bn most years, so there is a big difference between the situation now and the situation then.
"The problem is that Scottish spending per head, public expenditure, is substantially higher, 10% higher, than the UK average.
"The income from taxes for the government, without oil, is only equal to the UK average, so there is a gap and that gap would have to be filled by oil revenues at the moment.
"Even so, according to the Scottish government's own figures, there would still be a 5% deficit."
Extra money
Mr McCrone, who has said he wished to remain impartial in the independence debate, said he believed the priority for an independent Scottish government would be to get the budget deficit down to at least 3%.
It would only be after that was achieved that any surplus money could be put into an oil fund, he argued.
But Mr McCrone said that may not be a possibility for "quite some time".
He added: "I don't think one can predict really. It actually depends on how any government manages the other finances in Scotland. Would we cut public expenditure? Would you raise other taxes? What would we do in order to get the budget into balance?"
Since 1990, Norway has invested profits from its oil industry in the nation's future.
The fund now stands at about $720bn (£475bn) - 40% bigger than the value of the entire Norwegian economy - making it the world's largest sovereign wealth fund.
It owns, on average, about 2.5% of every listed company in Europe, and is widely expected to reach $1tn (£660bn) by the end of the decade.
Mr McCrone, whose book Scottish Independence: Weighing Up The Economics was published on Thursday, also questioned the wisdom of an independent Scotland keeping the pound in a currency union with the rest of the UK.
He said: "What it really means is that there would be very little freedom. You couldn't obviously have a separate monetary policy if you are in a currency union, because you have the same currency.
"Look what's happened in Europe. They are moving towards a situation where they are trying to get a real control of each other's fiscal policy in order to stop some countries building up huge debts.
"So it really does make it really difficult to run a separate fiscal policy."
He said it would be difficult for an independent Scotland which was in a currency union to reduce business taxes.
"I think there would be all kinds of problems with that", he stated.
"If Scotland cut its corporation tax to the kind of level that the Irish have, the northern part of England is actually in a worse state than Scotland is economically. Scotland is actually one of the richer parts of the UK now.
"The north of England and Wales would be up in arms about it because the whole point would be to try to attract investment that might otherwise have gone to them."
A spokeswoman for Scottish Finance Secretary John Swinney said North Sea oil and gas was a "huge bonus" for Scotland but "not the basis of our economy".
More than half the wholesale value of oil and gas in the North Sea is still to be extracted with around 24 billion barrels remaining, she added.
The spokeswoman said: "In contrast to Westminster plans which would continue to spend revenues without saving a penny the Scottish government is committed to establishing an oil fund when the fiscal conditions allow.
"In each of the last thirty years Scotland has paid more in tax per head than the rest of the UK regardless of the price of oil and over the last five years we had a stronger fiscal position than the UK to the value of £4.4bn.
"With independence we could have chosen to borrow £1.4bn less, invest £1.4bn more in the economy and invest £1.4bn in a fund to secure the benefits of oil and gas for future years and still have recorded a smaller deficit than the UK."