Scots obesity levels rise after 'clerical error' revealed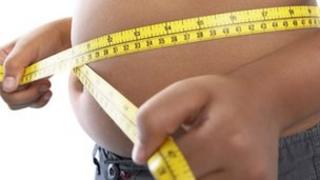 Obesity levels in Scotland are much worse than shown in official figures released earlier this year.
A "clerical error" meant statistics, published in June, underestimated the scale of the problem.
The original data failed to include details of the most morbidly obese Scots
Now the Scottish government minister for sport, Shona Robison, has apologised for the omission and has issued revised tables.
In a parliamentary response, Ms Robison stated in June that 26% of males and 23.5% of females were clinically obese.
However, those figures have now been increased significantly.
The minister has confirmed her first response did not include details of those with a body mass index (BMI) of more than 40 - defined as the most morbidly obese.
When they are added, the proportion of obese males aged 16-plus increased to 27.7%.
And the total for females rises substantially by more than four per cent to 27.6%.
Ms Robison has now written to Scottish Conservative health spokesman and deputy leader Jackson Carlaw to explain.
She stated: "I apologise for the clerical error in the original answer."
Mr Carlaw said: "We thought these figures were bad enough when they were first published, so for the situation to worsen is extremely concerning.
"With four per cent of women over-16 missed off these statistics, as well as nearly two per cent of men, we are talking a difference of tens of thousands of people.
"I'm pleased Ms Robison has moved to correct this error publicly, because it's essential we know the true picture.
"There is only so much the NHS can do when it comes to battling the bulge, and we need people to take responsibility for their own weight.
"If they don't, not only will they be causing problems for an overstretched NHS in the future, but they will be making for themselves a lifetime of misery."
Responding to Mr Carlaw, a Scottish Government spokeswoman said: "We recognise that obesity is a serious issue across Scotland and are taking concerted action to make our national diet healthier and help reduce Scotland's high levels of preventable diseases, such as heart disease, cancer and diabetes."
Recent statistics have revealed that four Scots die from obesity-related causes every week.