Scottish independence: Scottish government officials meet with Nato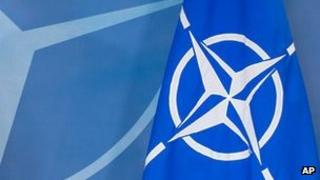 A meeting was held last month between Scottish government officials and Nato to discuss membership of the alliance in the event of independence.
The talks were held at Nato's headquarters in Brussels.
Senior Scottish government officials met with Dirk Brengalmann, who was then Nato's assistant secretary general for political affairs and security policy.
The meeting was held in early July and was facilitated by the UK's delegation to Nato, which also attended.
A Nato official described the meeting as "informal and informational in nature".
It is understood Scottish officials took the opportunity to argue that since Scotland was already within the alliance as part of the UK, it should not have to start from scratch in securing membership in the event of a Yes vote in next year's referendum.
The SNP, which forms the Scottish government, is committed to Nato membership after independence but has pledged to make nuclear weapons illegal in an independent Scotland.
'Extraordinarily difficult'
The government's Deputy First Minister Nicola Sturgeon said an independent Scotland's continued membership of Nato "would be in the strategic interests of our neighbours and partners, including the rest of the UK".
She added: "We have made clear that continued membership is contingent on the removal of nuclear weapons from Scotland, and if the people of Scotland vote Yes they will have voted to support a proposition that calls for the removal of Trident at the earliest safe opportunity.
"The UK government is committed to working constructively with us to make that happen, as they have pledged to respect the result of the referendum and to work constructively, in the interests of the people of Scotland and the rest of the UK, whatever the result."
But Scottish Secretary Michael Moore insisted it was "absolutely clear" the Scottish government could not apply to join Nato and then "disregard the fact that it is a nuclear alliance".
He added: "What the visit to Brussels made very clear is that an independent Scotland would need to take on the obligations of Nato or renegotiate those obligations individually with every single member state.
"That would be an extraordinarily difficult thing to do."