Salmond joins calls for Bill Walker to resign Scottish Parliament seat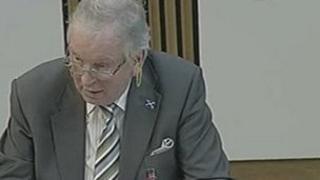 First Minister Alex Salmond has joined opposition politicians and called for Bill Walker to resign as an MSP after he was found guilty of domestic abuse.
The 71-year-old attacked three former wives and a step-daughter between 1967 and 1995.
Edinburgh Sheriff Court convicted him of 23 charges of assault and one breach of the peace.
Mr Salmond said someone convicted of such "extremely serious offences" was not fit to be a public representative.
He added that Walker, who was elected as an SNP MSP for the seat of Dunfermline at the 2011 Holyrood election, had been expelled from the party in April 2012 and now his conviction by a court of law reinforced his expulsion.
Mr Salmond believed it was time for Walker to go in order to allow the people of Dunfermline to elect a new MSP.
Labour MSP Claire Baker had earlier stated that in light of Walker's "vile conduct" he should stand down.
Under the rules of parliament, a person found guilty of one or more offences and sentenced to more than one year in prison is disqualified from being a member of Holyrood.
The MSP will be sentenced on 20 September.
Ms Baker said: "Whatever sentence is handed down by the court, the Scottish Parliament cannot have a member who has been convicted of 23 counts of domestic abuse."
She added: "Bill Walker should stand down now. His vile conduct over many years will disgust Scots and shames the Scottish Parliament."
Scottish Liberal Democrat leader Willie Rennie said: "What sort of message would it send to victims of domestic abuse if Bill Walker was allowed to keep his seat in Parliament despite his conviction?
"He has to go and he has to go now."
Scottish Conservative leader Ruth Davidson said: "The truth of the matter is that a family member of one of Bill Walker's victims informed the party hierarchy of serious allegations of violence made against him, yet the party still saw fit to put him in Holyrood under the SNP banner."
It was in the 2011 Holyrood election that Walker was the surprise victor for the SNP.
Party expulsion
He won his seat after beating the previous Liberal Democrat winner into third place and finishing 590 votes above Labour.
Walker has consistently refused to resign from parliament since the allegations first surfaced in the Sunday Herald newspaper on 3 March last year.
He was suspended by the SNP and stepped down from his positions on two Holyrood committees.
Later that month he used a column in the Dunfermline Press newspaper to describe the claims against him as "malicious allegations".
By April, he was expelled from his party. Police became involved later that month.
Despite growing calls for him to leave Holyrood, including pressure from campaigners against domestic abuse, he clung on to his seat as an independent member.
Police announced his arrest on 8 June, 2012, and he made his first court appearance on 5 July that year.